Best iPhone 14 Vodafone deals in March 2023
We may earn a commission if you make a purchase from the links on this page.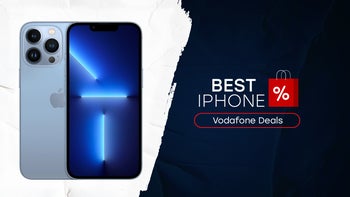 If you are out to grab yourself a new iPhone and your mobile contract is up for renewal, it's always a good idea to check which UK carrier will give you the best offer or best conditions before tying the knot for another couple of years.
Vodafone, with its focus on customer choice, is definitely one major carrier you should keep an eye on. With extended phone warranties and battery replacement programs, plus financing flexibility, it has easily positioned itself as a consumer-conscious provider.
Plus, the VeryMe Rewards loyalty programme always has some fresh surprise for Vodafone subscribers. This Summer, you can win some tickets for the hottest UK sports events. Obviously, the rewards refresh often, so it's a good idea to keep track of them through the My Vodafone app.
Speaking of loyalty, it's also pretty easy to stay on Vodafone's network once you are in. With 99% 4G coverage across the UK, the carrier is already quite reliable. Currently, Vodafone is making the push for 5G, adding the high-speed data to more and more cities, at no extra cost to subscribers.
And it just so happens that there are often great
phone deals at Vodafone UK
, complete with some perks and extras that carry extra value. But what about iPhone deals right now?
Vodafone benefits when buying an iPhone
Even when it's out of iPhone deal season, Vodafone has a couple of permanent perks attached to its plans, which add a good amount of value for customers.
Battery Refresh:
if your iPhone battery's health slumps and it needs replacing, Vodafone will do that for free. The service covers up to three years after buying an iPhone on a Vodafone plan. To check battery health, you need to go into the Battery Refresh Tool within the My Vodafone app.
Total Care Warranty:
a two-year warranty, which covers for any manufacturing defects and repairs. In contrast, Apple's iPhones typically come with only 1 year of warranty and you need to pay for AppleCare+ if you want more peace of mind.
Vodafone iPhone 14 deals
Apple's mainstream
iPhone 14
has no bells and whistles, like a telephoto camera and ProMotion display, but delivers on performance, battery life, reliability, and camera performance. With Vodafone right now, you can trade in an old device and get up to £312 off on an iPhone 14 or iPhone 14 Plus.
Is it worth getting an iPhone 14 from Vodafone?
If you happen to enjoy always having the latest iPhone, then Vodafone's current offer is worth considering. The carrier has locked in a buyback price of around 55% the iPhone's MSRP, meaning that if you trade-in next year, you will get a healthy chunk off the price of an iPhone 15. All without dealing with the second-hand market and trying to flip your old iPhone on your own.
However, if you buy iPhones to hang on to them for the full duration of your Airtime contract (or mode, if they last), then the current Buyback Guarantee is basically meaningless for your use case.
Are there any perks with the iPhone 14 on Vodafone?

As we mentioned above, there are a couple of perks fixed with the iPhone 14 at Vodafone (and regular deals can add to those). Those are Battery Refresh, with Vodafone replacing your battery for free, and a two-year Total Care Warranty. Those are explained in detail at the beginning of the article. And, on top of that, Vodafone regularly has new deals which add extra value of getting your iPhone 14 from here.