Save 20% on accessories that protect your Apple iPhone X from drops, falls and scratches
1
If you own an
Apple iPhone X
, you have made a pretty steep investment on one of the best smartphones available. So you might want to consider protecting your device with a case that can stand up to drops, bumps and other impacts that can damage the handset. Romoss' Mr. Lei division is offering a protective hard case for the Apple iPhone X that passes U.S. military standards (MIL-STD-810G). This product offers protection from drops as high as 7.9 feet, and has been tested against impacts from 26 different angles.
Amazon is offering the case for $12.99, but if you use the coupon code IP10PHAR, you will get 20% off. That is a great deal for a product that can protect your $1,000 phone. And the case also gives you a better grip on your iPhone X, making it less likely to slip out of your hands.
If you don't like using cases on your phones, you might want to consider using a bumper. The Mr. Lei iPhone X Bumper will protect your device from drops as high as 4 feet. Each corner has interior cushions and is designed to help spread and dissipate impacts. The bumper uses Air Cushion Technology to protect the iPhone X. Priced at $11.99 at Amazon, you can save 20% by typing in the coupon code IP10PHAR while checking out.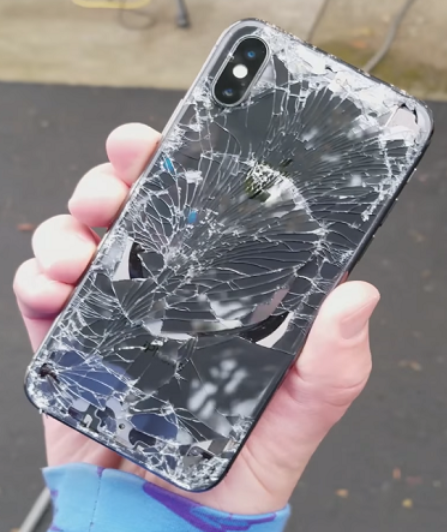 You don't want your iPhone X to look like this after a drop
If you want to protect the 5.8-inch screen on your iPhone X from scratches, you might want to try Mr. Lei's Tempered Glass screen protector. At .33mm, this is the thinnest such product available. Despite the dimensions, applying the screen protector will help keep the display intact by absorbing an impact. It also helps to keep dust out of your iPhone X. Coated with hydrophobic and oleophobic layers to keep sweat and oils from blurring the display, this screen protector contains 9H hardness tempered glass, nanostructured coating and shatterproof film. Priced at $8.99 at Amazon, use the coupon code IP10PHAR while checking out to save 20%.
Lastly, for those Apple Watch users who need additional battery life, there is the Romoss iRoll. This is a portable charger for all series of the Apple Watch, and can also double as a power bank for many iPhone models. Featuring a 3250mAh battery that can charge your Apple smartwatch as many as 6 times. With a dual port 2A output, you can charge your Apple Watch in 2 hours and simultaneously charge your iPhone. The accessory gets its name from the way you roll up the charging cable around the winder and secure the cover to charge your timepiece. Offered by Amazon in black or white for $24.99, use the checkout code IR10PHAR to grab a 20% discount.
The coupon codes for the above accessories will expire at the stroke of midnight PST on February 12th. If you have a loved one who owns an Apple iPhone X or an Apple Watch (or both), you've just discovered what to buy him/her for Valentine's Day.
source: Amazon (
Case
), (
Bumper
), (
Screen Protector
), (
PortableCharger
)