The Samsung SmartThings Station is super convenient and even doubles as a wireless charger
1
The latest SmartThings Station by Samsung will not only be able to act as a communication hub between all of your smart gadgets, but will also double as a wireless charger. That makes getting things started after you wake up as easy as reaching out to the bedside table to grab your phone!
The SmartThings Station was introduced during the Consumer Electronics Show (CES) of 2023. It allows you to control the smart home tech you've got at your place via any app of your choice, thanks to
the Matter update that Samsung SmartThings got
.
That will not necessarily be required though, as the Station will be clever enough to adapt to your daily routines and establish automation based on them. That means that the lights and temperature at home will be just as you like them when you get back from work. This removes the need to set these up in advance, and while some minor tweaking will most likely be required, it's still a load off users' shoulders, and it goes with the theme of making smart home tech more approachable.
Initial set-up has gotten easier too. When you turn on the Smart Station for the first time, it will notify your smartphone and guide you through the entire setup process. With the press of a button, it will be able to search for and connect to compatible devices, but you will also have the option to add them manually if you prefer scanning QR codes.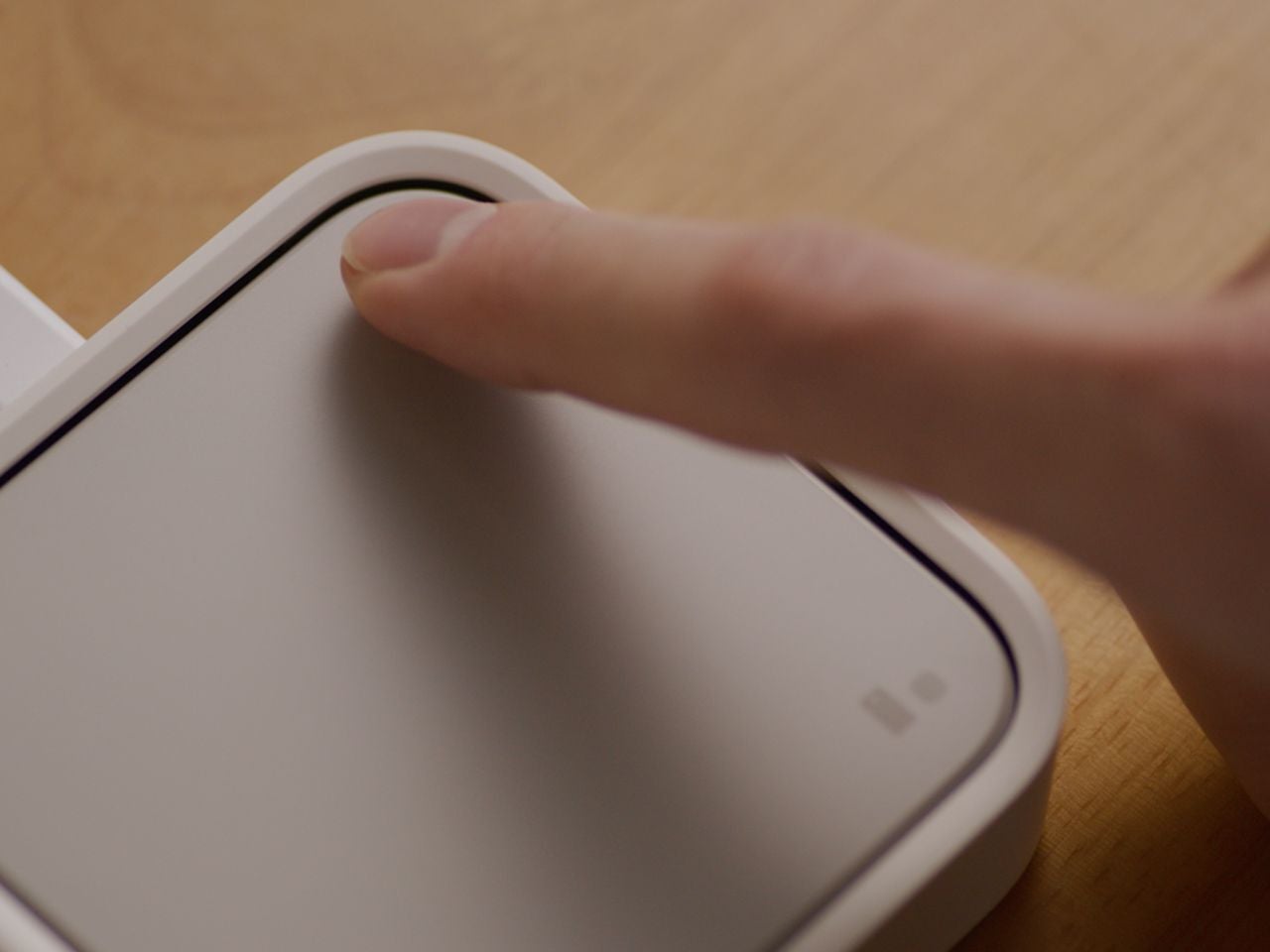 The Smart Button of the Samsung Station in action.
But there's more to the Smart Button than that. Through it, you will be able to quickly trigger up to three different routines via short, long or double presses. Double pressing is also how you can access SmartFind on the Station, which comes pre-installed with it.
SmartFind not only helps you keep track of your registered devices — including smartphones, tablets and smartwatches — but can also notify you if any of those happen to mysteriously begin moving away from the premises of your home. Oh, and that same double press command can make the Station ring out your phone, if you've forgotten where you've left it. Quite a lot of functions from a single button, right?
The unique innovation here is that the SmartThings Station will be able to act as a wireless charger too. It can provide fast charging up to 15W of speed, making the device the perfect companion for your bedside or work desk.
As of now, we don't know the exact price of the new SmartThings Station, but Samsung's EVP of their smart home division — Jaeyeon Jung — did mention that the aim is to make the technology not only more approachable, but more affordable as well.
What we do know is that the device's launch will be limited to the US and Korea, with no word on availability outside those regions for the time being. When it launches, it will be available in black or white, as seen in the images here.
And there you have it: another example of Smart Home tech becoming easier to setup and use. We've still got a ways to go before we reach a point where everyone can join in on the fun, but until then, we can look forward to more cool innovations, courtesy of Samsung.