The best watch bands for the Samsung Galaxy Watch and Galaxy Watch Active
We may earn a commission if you make a purchase from the links on this page.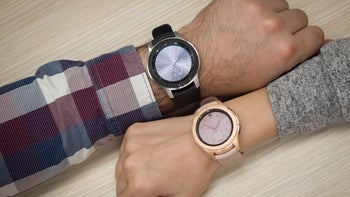 We can all agree that the Samsung Galaxy Watch and Galaxy Watch Active are two of the best choices on the smartwatch market right now. But just like regular timepieces, they are not merely utilitarian devices, but fashion accessories as well. Or they could be, at least, depending on how you wear them. A good-looking watch is always eye-catching, but if you add matching band to it, you can really make it stand out as a fashion accessory. Thankfully, there's no shortage of choices available for both the Samsung Galaxy Watch, which takes 22mm bands, and the Galaxy Watch Active, which is compatible with 20mm bands.
With this in mind, we decided to pick some of the best straps and bands for the Galaxy Watch and Watch Active currently available. Whether you're looking for something to match your outfit at a black tie event, or a durable sporty band for running and exercising, you'll likely find something that suits your needs here.


Samsung Galaxy Watch bands
Kartice stainless steel band

Kartice offers a number of replacement bands for the Galaxy Watch, and the Classic stainless steel model is among the best. It's tough, yet good-looking, and is available in a variety of colors and engraving combinations. This Katrice band was designed for the 46mm Galaxy Watch and complements both color options quite well. You can't go wrong with this one, provided you like metal watch bands, of course. And if you don't, we've got a whole lot more down below – from genuine leather, to rubber, to plastic!
ToroTop Milanese strap

Ah, Milanese watchstraps and their classic look. This fine-knit type of metal strap originated in the armor workshops in Milan, Italy, and has since turned into a staple for wristwatch fashion and style. If elegance is your goal, you can rarely go wrong with a Milanese strap for your timepiece, and elegance is what this one has in spades. Not to mention the very affordable price on this one – just $9.99! No wonder it's an "Amazon Choice" item.
Kartice leather strap

If you're trying to achieve a more classic look, then this Katrice leather strap may be up your alley. It's available in several different models and colors, including dual tone variations thrown in for good measure. The strap itself is well-made and has a stainless steel clasp that keeps it secure on your wrist.
Olytop woven nylon strap

If you are looking for something more rugged, then this nylon woven strap would be a good fit for your 46mm Samsung Galaxy Watch. It's waterproof, extremely durable, and surprisingly lightweight. You can go mountain climbing or swimming with it, no problem at all, though we wouldn't really recommend going swimming with your Galaxy Watch. This Olytop woven nylon strap is going for $16.99 on Amazon, but you can get a 2-pack for just $22.99 and combine both color options (black and army green).
Samsung Galaxy Watch Active bands
Kades soft silicone breathable band

This soft silicone band is perfect for the Samsung Galaxy Watch and for exercising. If you need a lightweight band that can take some serious beating, and one that you wouldn't mind soaking in sweat, then the Kades soft silicone band would be a great choice. And at $7.99, why wouldn't you get something like it that you can swap out when you're in for some serious exercises? Not to mention that it's also compatible with (and looks quite nice on) the 42mm Galaxy Watch.
Ezco silicone band

Another silicone band for the Samsung Galaxy Watch Active. This one is particularly well suited for sports and fitness tracking, as it is lightweight and very durable, but can also be quite eye-catching, as it is available in a plethora of vivid colors. Despite this band's affordable price, the manufacturer promises that these lively colors won't fade away, even after the band has been exposed to moisture and harsh sunlight,
SWEES Milanese loop band

And here's a nice Milanese loop band for the Samsung Galaxy Watch Active. Made of premium stainless steel, it has a unique magnetic clasp mechanism that holds it securely onto your wrist. There's also a variety of hues to choose from, including a dazzling color shifting version that looks quite nice on the pink Galaxy Watch Active.