Don't miss out on these paid Android games that are now free!
1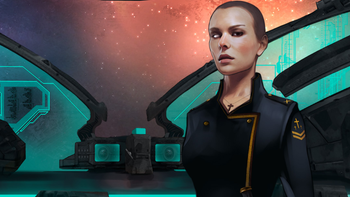 Looking for some neat new games to play on your Android smartphone? If that's the case, you might be pleased to hear that several titles that are usually paid are now available for free on Google Play.
This collection features several different genres, so we've made sure to include a video (where available) or gameplay image and a description below each title in order to aid you in the selection process.
Also, make sure to check out the end of sale times for each game next to the respective download link. At the time of writing (March 2nd), some of these titles only have a few hours left in their "freebie" period, so it's advisable to download anything that you like fast. Without further ado, let's see what's on the list!
Darkland
We're starting off with a beautifully simplistic indie platformer. In Darkland, you will meet Billy the white block. He's lost in the dark, and you have to help him escape by reaching the gate at the end of the level. The title uses one-touch controls, which makes it incredibly accessible. However, as you advance through the 60 stages, you'll find out that the title gets progressively harder to the occasional point of enragement.
You need to avoid the light blocks and spikes at all costs. That's easier said than done; however, and you'll likely die a lot. Still, there are no long or boring game over animations to delay your subsequent attempts, which keeps the overall experience exciting, and, most importantly, bearable.
SATAAAN! If you're into metal and/or unusual endless runners, Black Metal Man 2 might become your new favorite thing to play. While in the first game you had to help the Norwegian black metal dude reach the depths of hell, the sequel describes your epic journey towards "Kriegfest 94", a gathering of the most hardcore bands in the early days of black metal. Collect power-ups, ride a motorcycle, or even a lighting while you're headbanging to the glorious soundtrack of the game.
AngL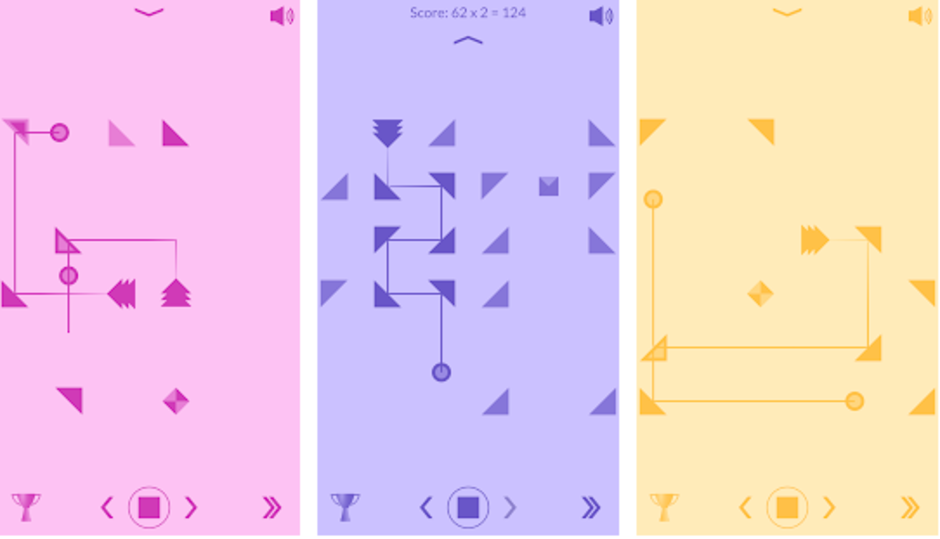 AngL is a very minimalistic puzzle game. The goal is simple - each level contains a bunch of balls that must reach the diamonds. The player has to use the various different triangles to change the angle and travel path of the ball in order for it to get to the endpoint.
There a three game modes in AngL - a campaign with more than 85 hand-designed levels, a mode that features an infinite number of procedurally generated levels, and a hardcore mode where you always need to find the best path in order to pass a given stage. AngL will keep you entertained for a while, as there's a ton of replayability to the title.
If you're a fan of arcade games, Diamo XL will not disappoint. You have to move a rotating square along the lines of four triangles which form a diamond. "Completing" the diamond gives you points. Moving circles also spawn at random locations and you can try to reach them for extra points, but the game also likes to hurl various projectiles at you to make things difficult. If you crash into one of these it's game over.
Once you start moving to one of the five zones (the white squares where the triangles connect), you can't go back, so your only option is to try and calculate if you're going to crash into a projectile. You can also tap on a direction key twice to move faster. This is an interesting risk / reward mechanic as maintaining mobility and a good speed increases your score but also the likelihood of you crashing into something.

Beast Towers TD
Beast Towers is a solid tower defense title with some pretty neat graphics. The game has you playing on the side of the monsters who are trying to protect their castle from the invading humans.
In Beast Towers, you're tasked with forming a labyrinth of lanes for the many waves of enemies to pass through. There are more than 40 different towers available in addition 15 different spells and abilities. Also, the game doesn't feature any in-app purchases or ads.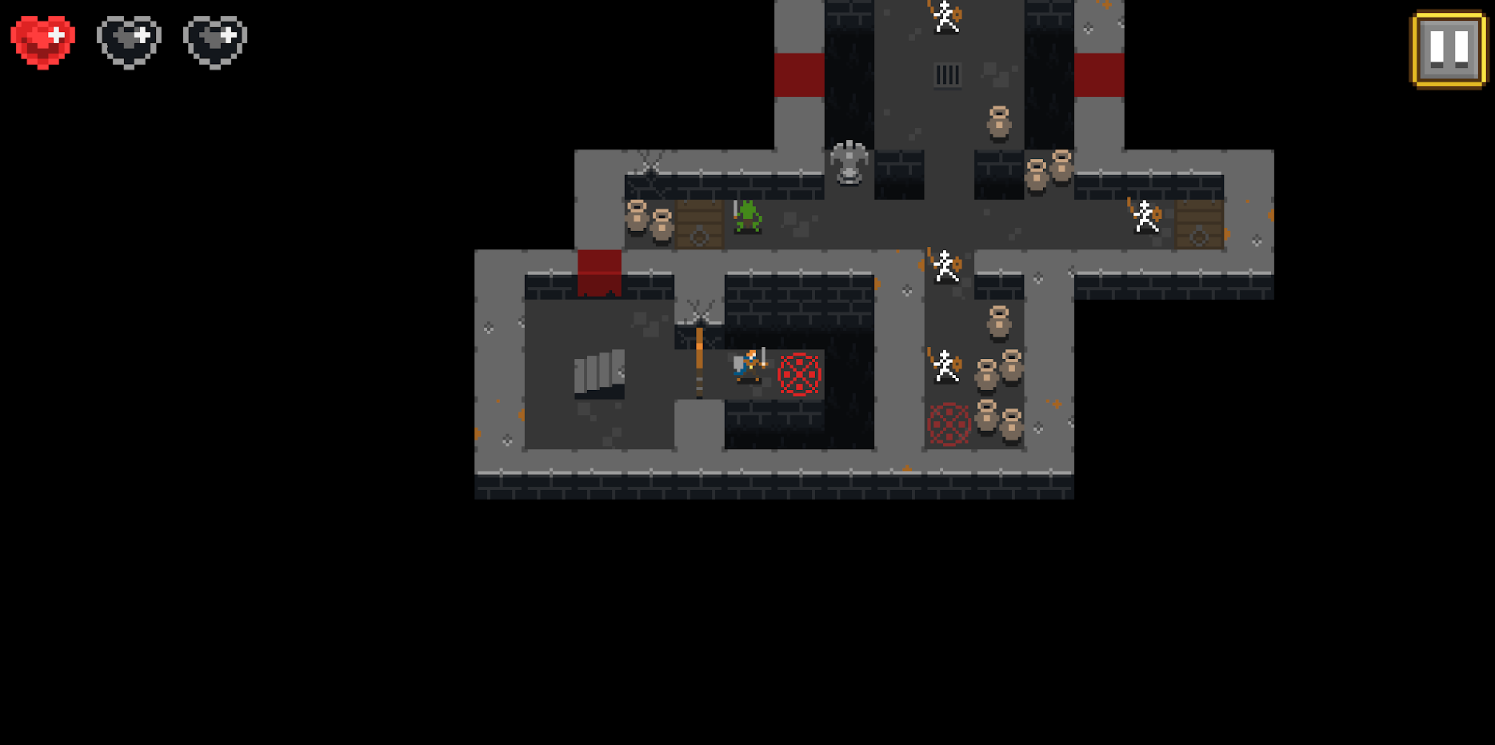 Blef is a pixelated turn-based fantasy game that offers several styles of play. You need to find the exit to pass a certain level, but how you do it is entirely up to you. You can carefully plot your moves and try to escape unharmed, or you can play like a true warrior and plow through the monsters in the dark dungeons. Delve deep into the dungeon to uncover its mysteries, then go back and master all the levels!
Out There Chronicles - Ep. 1
Out There is a super-hard, roguelike space exploration game that perfectly captures the feeling of mystery, isolation, and desperation as you try to guide a lost astronaut back home through the vastness of unexplored space. It was originally released in 2014 and quickly garnered a cult following, which prompted its developer — Mi-Clos Studio — to quickly release a re-master (the currently available Ω Edition) as well as create a spinoff series, titled Out There Chronicles.
Out There Chronicles is presented in the style of a choose your own adventure ebook — you play from the first person and the scenery and characters around you are presented in beautiful still images, all accompanied by a dreamy soundtrack. It's an episodic-style adventure and currently, you can grab the first episode free of charge. If you love the game, you might want to grab
Episode 2
while it's on sale as well.
Freelancer Simulator Inc: Game Dev clicker
In this idle clicker, you take the role of a freelance designer and developer. However, instead of being in a boring office, your character actually packs his gear in a caravan and starts working on the beach. Your task is simple - finish different projects by tapping, get money, and then have fun.
In the beginning of the game, you need to complete simple jobs that aren't well-paid. You get experience every time you complete a contract, and eventually, you start to earn more money from the tasks you complete. Your character can get hungry or lose his mind if he's overworked, so you have to make sure he's well-fed and entertained. There's a marketplace where you can buy food, equipment, and furniture. In late game, you can even hire freelancers to generate money and start buying off businesses within your city. There are no ads in this game, but there's a shop where you can buy skins and characters if you wish.
Retro Pixel
We're finishing off with a platformer that really tries to get you back to the early days of console gaming. Retro Pixel looks like an Atari 2600 title but is made for the modern smartphone. You need to help the Retro Pixel get back home by guiding it through more than 80 levels. This game is extremely tough and punishing, so you might want to load up on patience before you commence. If you manage to pull it through, you will definitely feel that sense of accomplishment akin to the hardcore platformers of the good old days.
This casual 8-bit title is a mix of Mike Tyson's Punch-out and a Pokemon-like RPG. The gameplay is incredibly simplistic - you choose a class for your character and then you are thrown into an arena, tasked with slaying monsters, one after the other. The evil spawn gets tougher and tougher with each beast slain, and at every 10 levels, you get to fight a boss.
The controls are simple - you have one button for attack and three buttons for dodging. Your enemies have different attack patterns, and you have to make sure to avoid them to have a chance at progressing to the higher levels. Picking the "Novice" class at the beginning is recommended, as the game gives you cues as to where your enemy is planning to attack. After you gather enough points and get a grip of the mechanics, you can try out the other classes. Pro tip: attacking monsters just as they spawn will deal a critical hit.
Hardboiled
If you're looking for a game like Fallout on mobile, you should definitely give Hardboiled a shot. This challenging RPG definitely takes a lot of inspiration from the iconic series produced by Bethesda - your character has survived the nuclear apocalypse and now you have to stay alive in a new and precarious environment.
The combat system in Hardboiled is turn-based and reminds us of the XCOM series. However, just like in Fallout, you can also take time and choose to aim for different body parts when shooting down enemies. As you gain experience, you will be able to develop your character through the skill point system. There's a reputation system in place, so your good or evil deeds will affect your gameplay. To top things off, there's tons of loot, weapons, and gear to find in the wasteland. This title is free of any ads or in-app purchases.