Learn how a 4-in-1-wireless charger can charge five devices at one time
1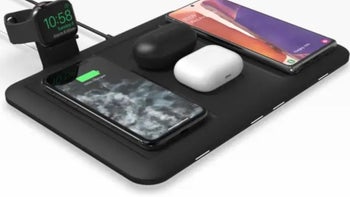 Accessories manufacturer mophie introduced today a new 4-in-1 wireless charging solution that can charge up to four Qi compatible devices simultaneously. With markings and multiple charging coils, finding the sweet spot on the charging pad isn't such a chore. And to help you charge an Apple Watch, the mat features an additional USB-A port. Speaking of the Apple Watch, a charging adapter is already included in the box and all you need is the magnetic charger. This is important since
Apple
is no longer placing a power adapter in the Apple Watch box.
While mophie calls this a 4-in-1 wireless charger, it actually can replenish up to five devices at one time thanks to the USB-A port. And the charger will still work even with handsets protected by cases as long as those cases weigh in at 3mm or less. Based on the photos that mophie is using to promote the product, users will be able to wirelessly charge at the same time two handsets, and two wireless charging cases for wireless Bluetooth earbuds. Using a cable and the aforementioned USB-A port, an Apple Watch can also be charged.

The mophie 4-in-1 wireless charging pad makes it easy to find the sweet spot for charging
The mophie 4-in-1 wireless charger is priced at $149.95 and is available in your favorite color-as long as your favorite color is black. According to the manufacturer, this charging solution works with devices like the AirPods, the Apple Watch, the iPhone, and compatible Google Pixel and Samsung Galaxy devices. The pad can be
ordered from mophie's parent company Zagg with free shipping
.