Want Alexa to be the default virtual assistant on your Android phone?
4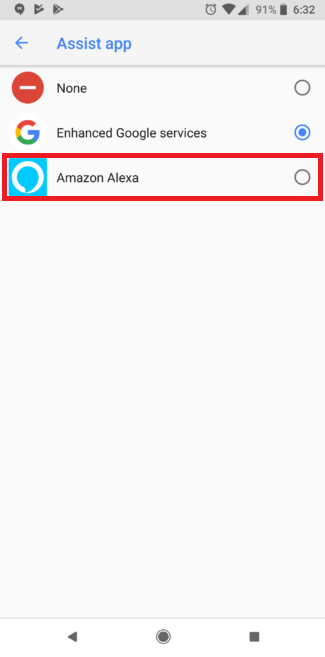 Alexa can be the default assistant on your Android phone
There is a general consensus among those who have had the opportunity to use a number of different virtual personal assistants, that Google Assistant and Alexa are in a photo finish at the wire. Cortana is next, with Siri bringing up the rear. If you own an Android phone and have installed the Amazon Alexa app, you can actually have the latter become your default assistant if you so desire.
To arrange this, go to
Settings
>
Apps & notifications
>
Default apps
>
Assist & voice input
and click on "Amazon Alexa" (see image at right). There a few things you should know. If you have an Android phone that allows you to open Google Assistant with a squeeze, this will not work with Alexa; she is non-squeezable, sort of like Howie Mandel. And hotwords won't activate Alexa either. Sure, you can scream at the top of your lungs, "Alexa, Alexa, ALEXA!!!!," but it will be a waste of your breath. You will need to long-press your home button to get her attention.
Just in case your crush on Alexa turns out to be a passing fancy, no worries! You can have Google Assistant return as your default virtual personal assistant by going back to the steps listed in the first sentence of the above paragraph, and instead of clicking on Alexa, click on "Enhanced Google services."
source:
AndroidPolice