iTrain: Amtrak starts scanning tickets with iPhones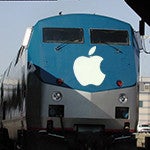 The sheer scale at which mobile technology is changing our world isn't best observed in the hottest new phones or tablets, but rather the myriad little ways that mobile devices can improve our daily lives. Take train rides for example; for over a century passengers on trains have given their tickets to a conductor, who punches them and later reconciles them (in the case of Amtrak, tickets are sent in to a central processing team).
The system certainly works, but it's far from ideal. It requires a physical check in, it creates waste (the tickets), and conductors can't easily determine if everyone who bought tickets has shown up, meaning there may be seats left open that could have been filled. Amtrak intends to fix that by having their conductors switch to using iPhones as scanning devices.
Passengers who purchase paper tickets at the station will simply have them scanned by a conductor, while passengers who buy digital tickets can simply have their smartphones display a barcode for scanning. Purchasers of virtual tickets also won't have to pick them up at the station; they'll be able to board directly.
Amtrak has been testing the system on two lines, from Boston to Portland and San Jose to Sacramento. Later this fall they will issue iPhones to all 1,700 conductors and roll out the system to everyone. An Android app is expected to land around the time the project rolls out to everyone, and users of other smartphone platforms will be able to log into a mobile site to purchase and display bar codes from if they wish.
source:
The New York Times
via
SlashGear