iPhone user wins $850 judgment in throttling case
13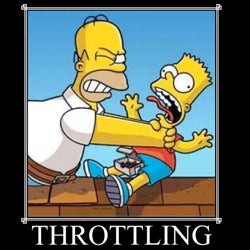 A source of a lot of contention from consumers these days is the practice of throttling, or slowing down data speeds after a certain data cap has been met, especially if the consumer is paying for an unlimited plan.
Matt Spaccarelli found that the data on his iPhone was being throttled by AT&T after a mere 1.5 to 2 GB a month, even though he was on an unlimited plan and AT&T's new tiered plan of the same cost includes 3 GB of data a month. Spaccarelli decided that the best way to resolve this issue was to take AT&T to small claims court.
Judge Russell Nadel ruled in favor of Spaccarelli in Ventura Superior Court in Simi Valley and awarded him $85 dollars for each of the 10 months left on his contract for a total of $850.
While AT&T's subscriber agreement specifically denies customers the right to pursue a class-action lawsuit, those willing to appear in person and prepare their own statements can take the communications giant to small claims court like Spaccarelli did.
Verizon and T-Mobile are also known to employ throttling on their networks, although to a lesser degree than AT&T. If enough people follow through and take AT&T to court it could be enough cost and bad press to force cellular provider's hands into lightening their throttling policies, or remove them altogether.
Thanks to our tipster!
source:
ABC News