iPhone loses market share in Europe, Android gains traction
48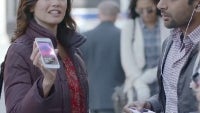 The
Apple iPhone 4S
has already broken a couple of sales records. First day sales were through the roof and on the first weekend of sales alone it broke the 4 million unit barrier. The latest iPhone has fueled Apple's growth in the States and the UK, but research firm Kantar Worldpanel ComTech published a report saying that the situation is not like that everywhere. Europe for once has become more price sensitive then ever and the iPhone has lost much of its traction there.
"In Great Britain, the U.S. and Australia, Apple's new iPhone continues to fly off the shelf in the run-up to Christmas. However, this trend is far from universal,"
global consumer insight director Dominic Sunnebo said.
In the
US Apple's share grew
to 36% from only 25%, while in the UK it rose to 31% from 21% in the 12 weeks to end-November.
However in
Europe's biggest markets
- Germany and France - the iPhone has lost some ground. In Germany the drop was from 27% to 22% and in France it was even bigger - Apple's share slipped to 20% from 29%.
This could also be partly due to the eurozone crisis, so people seem to have flocked to more option-rich Android. Google's platform had a share of between 46% and 61% across the Old Continent.
The
Samsung Galaxy S II drove Android's growth
in Europe's biggest economy Germany. There Android's market share stood at 61% at the end of the 12-week period the analysts measured.