iPhone Xc SIM tray leak confirms multiple colors, dual SIM support
24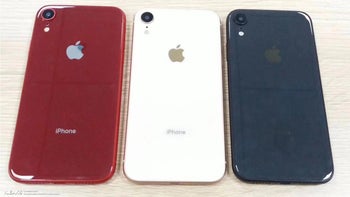 Alleged iPhone Xc prototypes in red, silver, and blue
There is just one day to go until Apple's annual hardware event and, following various reports regarding the iPhone Xc's colors, multiple images of the smartphone's SIM trays have appeared online confirming the upcoming variants.
In total, there appear to be five main colors in the works. Of these, it's fair to say that the most eye-catching ones are red and blue. But unlike the
iPhone 5c
of the past, Apple has opted for much darker tones this time around. In addition to these, another SIM tray appears to sport a rather odd tone that sits somewhere between brown and gold. This could mean that Apple has either an orange or a gold variant of
the budget device
in the works. At this moment in time, though, the most plausible option is the Taupe-colored variant that was previously rumored.

Alongside the colors mentioned above, two silver tones and two gray tones also seem to be present. This confirms that Silver and Space Gray models will be offered once the iPhone Xc goes on sale next week. However, it remains unclear if the different tones that have been photographed relate to different color options or not. On one final note related to the pictures, although it seems as though there are two SIM trays for each color option, the images actually showcase the same tray from the front and the back. This is because Apple will be using a new double-sided tray that can house two SIM cards, thus incorporating dual-SIM capabilities without any extra slots on the frame.
All things considered, it's looking more certain by the hour that
Apple's iPhone Xc
will be offered in a wide range of colors. But with some uncertainty still remaining about certain colors, it appears we'll have to wait until tomorrow to see the final list.
Recommended Stories