iPhone 7 vs iPhone 6s: Apple's new phones said to come with more RAM for better performance
35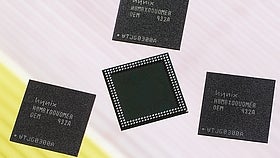 According to the latest report from Taiwanese publication Digitimes, Apple's upcoming iPhones - expected to be announced as either the iPhone 7 or the iPhone 6SE series - will come with 3GB of RAM.
As most of you probably know already, the
iPhone 6
and the
iPhone 6 Plus
were the first Apple phones to feature 2GB of RAM following the
iPhone 5
and the
iPhone 5s
, which came with a single GB of RAM.
Now, before we get any deeper in what's obviously unofficial information, it should be DigiTimes is not always the most reliable source. On the other hand, the publication has deep ties with smartphone supply chains and often provides the correct information on upcoming smartphones and tablets.
This new report, quoting unnamed industry sources, says that prices of DRAM memory chips are bound to increase in the second half of the year. Interestingly, the publication claims that Samsung Electronics, SK Hynix, and Micron Technology — the world's three largest DRAM manufacturers — have intentionally reduced their production quota during the first half of the year.
This limited supply, combined with a predicted increase in built-in storage space capacity on next-generation smartphones, will supposedly drive prices up by (at least) the end of the year.
Digitimes quotes industry sources which expect the upcoming iPhones to boost 3GB of RAM. Furthermore, the same sources claim that the standard for upcoming high-end Android smartphones will increase to 6GB of RAM, up from 4GB currently.
The next iPhone is largely expected to be officially unveiled in early September, with pre-orders rumored to debut on September 9th. Judging on rumors and leaks, the iPhone 7 series will be an incremental update that largely maintains the design of the iPhone 6s but updates the internal hardware. Here are some links if you're just now joining in on the Apple iPhone 7 pre-launch conversation:
At the moment, Apple doesn't make any mobile devices that feature 3GB of RAM. The iPhone 6s series, the iPad Air Pro 9.7, and the iPad mini 4 all come with 2GB of RAM. The 12.9-inch iPad Air Pro comes with 4GB of RAM.
What do you guys make of this rumor? Will anyone be disappointed if the iPhone 7 series comes with 2GB of RAM?
Recommended Stories