iPhone 5 beats the Galaxy S III in terms of web browsing usage
88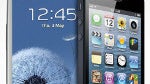 It's been only three weeks on the market, but the iPhone 5 has already surpassed the Galaxy S III in terms of generated web traffic. To put things in to perspective, the GS III has been on the market for about 3 months now.
According to a report by Chitika, the iPhone 5 now accounts for no less than 56% of all web traffic generated by the iPhone 5 and GS III. The Galaxy S III currently has 44% of the pie, but its share is expected to decrease from now on.
Still, this research reminds us of how well Android phones are doing nowadays. About a couple of years ago, no one would think that a certain handset model might be close to the iPhone 5 when such a metric is concerned, but here we are today, with the Galaxy S III proving to be a worthy opponent.
Chitika says that the enormous amount of web traffic going through the iPhone 5 is due to its record-breaking sales numbers and LTE connectivity.
via:
AllThingsD