iPhone 4S waterproof case can dive down to 100 feet, lets you film mermaids in HD
7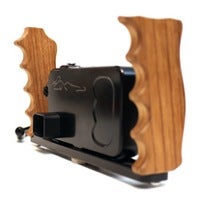 In general, liquids and electronics do not get along very well. That is why if you want to do some underwater shooting, you need a trusty protective case. But do they make such contraptions for the iPhone? Sure they do, and the
FourPro by Mocean Armor
is arguably the toughest one you can find.
The FourPro is designed for use with the
iPhone 4
and
iPhone 4S
, and the maximum safe depth that it can go down to is the impressive 100 feet. Interestingly, it was used while shooting a National Geographic documentary on great white sharks, so it is clearly tough enough to suit the needs of amateurs and professionals alike. And that should come as no surprise – the FourPro is built out of materials that are normally used in the construction of professional underwater camera gear.
While the iPhone's display remains visible at all time, you cannot control it with your fingers, which means that you have to set up the smartphone prior to diving. The shutter key is triggered by a mechanical sealed button that presses on the smartphone's volume key.
If you want to get yourself a FourPro, you can reserve one for $400 on the Kickstarter web page or grab it for $700 once it hits mass production. Sure, sounds kind of expensive at first, but it actually isn't considering that a waterproof HD camera capable of reaching the same depths would cost you thousands.