iPhone 11 All New Colors Closer Look: green, purple, red, yellow, white and black
11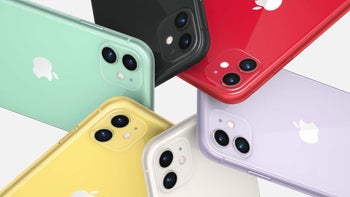 The new
iPhone 11
comes in six colors and they look different than what we had on last year's
iPhone XR
.
First, there are a few new colors: the purple iPhone 11 replaces the blue shade that we had on the XR, and the green one replaces the coral model from last year. The other four colors are similar to what we had before, but not quite the same: we have the classic black and white versions, and also new takes on the yellow and red.
And while you surely have seen the official photos, we wanted to show you how these colors look in real life to help you pick the right one for you.
iPhone 11 colors
The first thing you notice immediately with the iPhone 11 colors is that Apple has chosen to use more muted, pastel shades. Last year's iPhone XR was bold, with often screaming hot, bold, saturated colors that stood out, but maybe a bit too much. This year's colors are definitely not as aggressive and look more peaceful and serene.
Let's start the closer look with the two new options: purple and green. Together with the white they all appear similarly pale. The purple one is a very delicate peony-like color, it looks a bit milky, and the green one is a mint type of green, with a very soothing, neutral, slightly washed out feel.
My personal favorite is the red one. Last year's XR featured a very intense red color that looked a bit over the top, and this year it's a much less aggressive shade of red, that looks candy-like and very appealing.
The yellow color has also undergone a slight transformation from the quite strong "duck yellow" on the XR to a much soother, lemony, pastel shade.
The black and white colors seem like they have undergone the least change from last year, they appear practically the same as what we had on the XR.
You can take a look at all the iPhone 11 colors in a bit more detail in the images below: