iPads being tested as a voting machine
7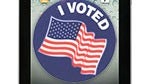 As Election Day gets underway today in the United States, a number of voters in Oregon won't be pushing buttons, pulling levers, or even using a pen; they will be using an
iPad
to cast their vote.
Oregon has spent approximately $75,000 to create software that runs on the five iPads they received as donations from Apple. The system uses an iPad and a portable printer that allows the voter to make their selection on the screen and then verify their choices on a printed ballot.
The system is intended to bring equality to disabled voters. The ability to touch their selection on a screen, or attach additional accessibility devices via Bluetooth, brings independence and privacy to disabled voters who would otherwise need to depend on another person to fill out their ballot. The simplicity and the mobility of the iPads also allows state election officials to easily travel to locations that typically house voters that are unable to vote on their own, such as nursing homes and community centers.
As far as cost, Oregon officials are confident that this solution will actually save the state money. In the last two years, Oregon has spent more than $325,000 on accessible voting tools and maintenance. In order to roll out this program statewide, Oregon would need 2 iPads for each of its 36 counties. The state elections director, Steve Trout, doesn't have an estimate on additional software costs, but says they can use printers that they already own and purchase iPads for $500 each, keeping hardware costs down around $36,000.
After today, state officials are already planning on using the system again for the special general election in January. If these pilots are successful, they are expected to go ahead with a statewide rollout.
source:
Associated Press
via
All Things D