iPad gets integrated into journalism and medical schools
6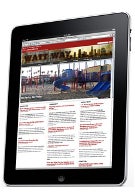 For years now, universities have given their incoming freshmen iPods and laptops as 'Welcome-to-college!' perks. Now, some universities are offering more focused educational tools. At USC Annenberg's school of journalism, students of professor Bill Celis' "Specialized Reporting: Education, Youth and Learning" course will receive
Apple iPads
, audio recorders, and cameras in order to capture the news when and where they occur. Rather than lug around a full-size laptop dependent on Wi-Fi, students can carry the 1.6 pound iPad which will provide Internet anywhere in range of AT&T's service.
The iPad is also coming to the medical sector. Students of UC Irvine's medical school will receive iPads in order to digitally maintain their notes, textbooks, recorded lectures, and even professor-produced podcasts. Even more exciting are the new digital stethoscopes and ultrasound machines which will connect to the iPad, allowing students to compare their recordings with digital libraries, aiding accurate diagnosis.
Aside from the benefits of portability and synchronization, these iPad initiatives signal a 'green' revolution in education. Rather than dealing with reams of lecture notes and cumbersome textbooks, students' carbon footprint can be limited to their use of the iPad… which is also mostly recyclable. Gaea thanks you.
source:
PhysOrg
and
USC Annenberg
via
Engadget