iPad Mini screen protector, anyone? Zagg has one for $24.99!
8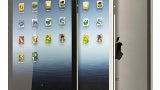 Accessory makers have always been good sources of leaks when it comes to upcoming devices. Apparently, this is also valid for a big-name company such as Zagg, known for its durable invisibleShield screen protectors.
While we are still waiting for Apple to announce its iPad Mini tablet, it looks like Zagg is positioning itself one step ahead of the others, informing its customers that it will soon be offering a screen protector for Apple's elusive device. The price of the protector is $24.99 (EUR 24.99 if you are in Europe). Now, this isn't the ultimate confirmation we've all been waiting for, but it definitely pushes us a bit closer to believing that such a device will indeed be introduced this year.
Of course, since Zagg isn't even doing pre-orders for the accessory right now, it might all be just an effort to be the first out there to be offering such an accessory, in case Apple does come up with the iPad Mini (who knows, they could be doing it for SEO or some other exciting reasons). Thankfully, since we're nearing the end of the year, at least we should soon know the truth. And that, fellow nerds, is priceless...
source:
Zagg
via
Cnet