iPad 3 shell assembled from various suppliers' parts [video]
26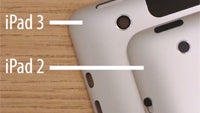 We could all just wait a few days to see what Apple's latest installment of the iPad will look like, but what's the fun in that? A Chinese blog, M.I.C. Gadget, has gone all out to figure out what this device will look like.
They managed to scrounge up parts from various suppliers in order to assemble the shell of the device. Overall the iPad 3 looks pretty much the same as the iPad 2, except for the fact that the iPad 3 is a bit thicker with more tapered edges and has a larger opening for the camera lens.
We've heard everything from soup to nuts are far as rumors about this thing, but at one time there was rumor that the front glass would no longer have the famous physical home button. If these are the official parts, you can consider that rumor debunked, because M.I.C. Gadget's iPad has a home button.
So here it is. Check out the video below. If this is, in fact, what the iPad 3 looks like, is it everything you thought it would be or were you expecting something different?
source:
VentureBeat