iPad 2 expected to go global this Friday
5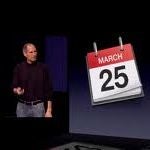 Apple has confirmed that the iPad 2 is only days away from going global, which pretty much shattered all rumors revolving around possible delays. Scheduled for launch on
March 25
– just like Steve Jobs himself announced almost two weeks ago, the iPad 2 will be officially made available for purchase in another 25 countries worldwide besides the U.S. (complete list below) with Singapore, Hong Kong, and South Korea to follow them in April. Japan was also expected to get the iPad 2 this Friday, but since priorities there have shifted towards recovering from the natural disasters that struck the country, the tablet's launch has been postponed to a later date.
Apple's tablet is going to be sold through both Apple retail stores and authorized resellers such as Best Buy Canada, for example. According to Apple, prices of the different iPad 2 versions should be equivalent to their U.S. counterparts, though we suppose that slight differences in either directions are very likely to be seen in real life.
List of countries to get the iPad 2 on March 25: Australia, Austria, Belgium, Canada, Czech Republic, Denmark, Finland, France, Germany, Greece, Hungary, Iceland, Ireland, Italy, Luxembourg, Mexico, Netherlands, New Zealand, Norway, Poland, Portugal, Spain, Sweden, Switzerland and the U.K.
source:
Mashable