iOS games mushroom to staggering heights
2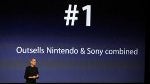 iOS is a world of its own when it comesto mobile gaming and with Apple reaching out to more and more peopleit is bound to success. But even now the numbers are staggering.Games on iOS in its two years of history outnumber what the gamingindustry put out in 25 years altogether, as some raw statisticscompiled by Richard Gaywood from TUAW show.
Now, no need for extra hype as thecount does not necessarily mean quality. And with the newest consolesyou can argue that one game has the depth to cover for a few iOStitles, but let's ignore that for a second and look at the numbers.iOS has the mind blowing 52,000 games compared to a total of nearly18,000 issued for consoles. Early computer systems'releases account for some 38,500 games, which also falls short ofApple's platform.Counting out titles that included the words "lite" or "free"gives a more realistic picture of 32,500 iOS games.
And to make the comparison moreaccurate, the data compiled by TUAW included Flash games, which aloneaccount for some 40,000 titles. After all, Flash games share somefeatures with titles for iOS - the majority of them are lesssubmersive and not sographically intense. Take a look at the graphics compiled by Gaywoodbelow.
And then again, we know that thosenumbers are barely even comparable. Some, if not most, of the gamestook literally several hours in the making and cannot compete withthe newest Xbox 360or PS3 titles. What these numbers come to prove israther how much of a game-changer iOS is and where the vector ofdevelopment is headed.
Finally, the numbers don't mean as muchas the titles. It was Super Mario for Nintendo and Sonic for SEGAthat gave each console its own signature. Butnow the landscape changes with the medium and some of the boundariesmight end up blurred. EA, Activision, Id and Epic are all aboard theiOS train. Will others jump in too? This remains a question of thefuture.
source: TUAW
Recommended Stories