iOS fans, brace yourselves! App Store prices across the EU, Canada, and Norway said to go up
44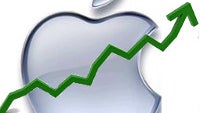 If you are living in the European Union, Canada, or Norway and you put all of your faith into Apple and its iOS, then this news might slightly embitter your life. A recent report claims that Apple has decided to bump the prices of all apps and games in the App Store. Interestingly enough, it looks like the prices in Iceland will go down instead of up.
This was revealed by Apple Insider, which reportedly intercepted a memo sent to the iTunes Connect members in the respective regions. It looks like the prices will be readjusted by Saturday.
Apple has decided to implement such an unpopular price-related practice in order to correspond to the increased rates of the VAT in the regions in questions, as well readjust in accordance to the ever-changing currency exchange rates. That's why the changes in the pricing of the App Store entries will vary by country.
The memo also mysteriously points out that the fees for Russia will be a subject to change, but doesn't elaborate on what that will be. This will probably reflect the weak Russian ruble - as a refresher,
Apple suspended online sales
in the country after the local currency hit a new low back in December. Subsequently, the
online store resumed business
, though prices were noticeably higher than usual.