iOS design poll shows users strongly favor iOS 7
71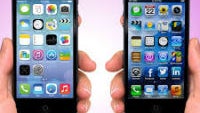 When Apple first announced iOS 7 and showed off the new design, there was a pretty big backlash amongst designers and average users alike. But, either people are getting used to the new look, or the initial response was simply a mixture of Apple-hate and change-hate, because a new design poll is showing that users strongly favor the look of iOS 7.
The poll has been put together by users using
Input Factory
's Polar app, which has put together side-by-side questions of iOS 6 vs iOS 7 design elements and is asking which one users prefer. The poll goes through a number of elements from on-off switches to notifications to sliders, menu icons and more. In almost every head-to-head matchup iOS 7 isn't just beating iOS 6, but winning handily.
Most of the polls have iOS 7 winning by at least a 3-to-1 margin
.
The site goes on to give basic yes-or-no polls for various iOS 7 design elements, and again most of the elements do get good marks from users. It's hard to say how much stock to put into these polls, but it is certainly an interesting turnaround from the early reactions.