iOS App Store is the most mature, Google Play fails in discoverability but wins in search
26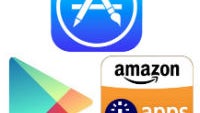 App stores are one of, if not the most important part of the current mobile experience. You can prefer one platform to another for aesthetics, integration, customization, and plenty of other factors, but in the end the app stores tend to be the great equalizer because many of us live in apps and not on the homescreen. So, Pfeiffer Report has decided to do a study of three major mobile app stores - the iOS App Store, Google Play, and Amazon Appstore - to determine which is the most mature.
The end result is likely unsurprising in that the oldest (the iOS App Store) is the most mature and the youngest (Amazon) is the least mature. But, what we really love about this report is that Pfeiffer didn't grade on a curve and compare to whichever app store was the best at something, Pfeiffer designed the characteristics of the perfect app store and graded against that. So really, in the end all of the app stores came up lacking with the iOS App Store scoring just 53.1 out of 100, Google Play was at 40.9, and the Amazon Appstore scored just 34.1 out of 100.
The scores were generated based on a number of factors including: Search, Discovery Assistance and Curation, the Evaluation Grid which covers 8 general items, and User Experience Friction (UXF) which covers annoyances that you don't want to see. Certain items were problems for all of the app stores studied, for example none of the app stores offer natural language search, or advanced search options (ie. limiting a search to a specific time, type of app, category etc). All of the stores received low marks on editorial content and recommendations, and were penalized for calling user opinions "reviews", which Pfeiffer says is misleading. In a perfect app store, all of these options would exist and there would be a separation between user opinions and independent reviews so you don't have a thoughtful review right next to an opinion stating "Best app EVAR!!!" We can get behind that sort of thinking.
As you might expect, Google won in terms of search because it was by far the best at getting you to the right app even if you misspelled something or had a typo, and Google Play has the best support for Boolean terms (+, -, AND, OR). iOS came in second because of its options for refining search results. Where Apple really pulled ahead while Google fell on its face was in discoverability. The iOS App Store simply offered far more category options, and more apps in specialty selections. Google once again slipped in the Evaluation Grid mostly on its discoverability issues, while Apple excelled. But, Google was the best in terms of UXF, which were small problems that didn't affect long-term usage, like wish list presentation, search history, etc.
In the end, all of the app stores still have a long way to go. No word from Pfeiffer as to why the Windows Phone store was left out. We've contacted them for comment.
Recommended Stories