Update to iOS 13.2 kills multitasking on the Apple iPhone
44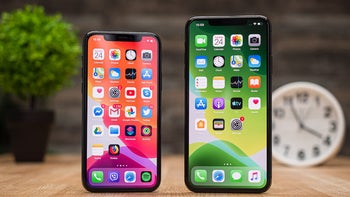 When Apple released iOS 13.2 at the end of last month,
it brought the Deep Fusion feature
to the new 2019 iPhone models. Before the shutter is snapped on the
iPhone 11
,
iPhone 11 Pro
and the
iPhone 11 Pro Max
, eight exposures of a scene are captured using various exposures. Including the image taken when the shutter is tapped, these nine exposures are compared pixel-by-pixel using the A13 Bionic's Neural Processing Unit (NPU) to create a detailed final image with less noise.
The iOS 13.2 update also included 59 new emoji and debuted the
Announce Messages with Siri
feature. The latter allows someone using a device that employs Apple's H1 chip (like the second-generation AirPods and the AirPods Pro) to have their messages read by Siri. Once the virtual assistant reads a message, the user can immediately dictate a reply to Siri who types it out and disseminates it.
But there is a problem with the latest iOS update that
several Apple Communities members
and
Redditors
are complaining about. It seems to be an issue with memory management. So let's say that an iPhone user is watching a YouTube video and pauses a video to answer a call. When he or she tabs back to YouTube, the video is gone. As one Reddit member wrote, "Nothing is more frustrating than pausing a YouTube video then coming back to find the app is refreshed and the video is gone. I know it's in my watch history but it's ridiculous that the app would completely refresh." The phrase that almost all of these complaints mentions is that iOS 13.2 is too aggressive in killing apps.
Many iOS users say that their iPhones and iPads have no multitasking capabilities after updating to iOS and iPadOS 13.2

One Reddit member with the handle DatDeLorean gave a good example of the multitasking issue that many are experiencing with iOS 13.2: "I can be looking at a thread in Apollo, switch to WhatsApp to reply to a message for a minute, and when I switch back to Apollo it needs to reload the app. Which is infuriating when I have a
7 Plus
, which should have more than enough RAM to handle those two apps concurrently and more."
A tweet from an iPhone user named Nick Heer
(@nickheer) gives his experience with this problem: "I'm used to the camera purging all open apps from memory on my
iPhone X
, but iOS 13.2 goes above and beyond in killing background tasks. Earlier today, I was switching between a thread in Messages and a recipe in Safari and each app entirely refreshed every time I foregrounded it. This happens all the time throughout the system in iOS 13: Safari can't keep even a single tab open in the background, every app boots from scratch, and using iOS feels like it has regressed to the pre-multitasking days."
In case you were wondering, all 2019 iPhone models sport 4GB of RAM. That is the same as the amount found on last year's
iPhone XS
and
iPhone XS Max
and is up from the 3GB employed on the
iPhone XR
. We should point out that because of optimization used by Apple, you cannot make direct comparisons with the amount of RAM found on Android phones, which is as high as 12GB on certain high-end handsets.
Some iPhone users are saying that with the issues on iOS 13.2, it is almost as though the iPhone doesn't even offer multitasking anymore. That sounds like a pretty strong comment to make.
Multitasking officially came to the iPhone in iOS 4
which is why one Twitter member tweeted that it feels like he is using iOS 3 again. It also appears that this issue isn't a problem for the oldest iPhone models that received the iOS 13.2 update, the
iPhone 6s
and
iPhone 6s Plus
.
The problem is also affecting iPadOS 13.2 which might be considered an even bigger deal since the dedicated tablet operating system is supposed to make the iPad more of a laptop replacement than ever before. It isn't clear whether Apple is aware of this issue (although it should be) and what it intends to do to solve it. But for now, there are some angry campers in the iOS community.