iFixit tears down the iPhone 6 Plus - confirms 1 GB of RAM on-board
26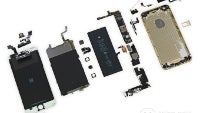 Well, it's iPhone day. The two new handsets from Apple are being sold in stores in select countries across the world and, like always – people are lining up to get their hands on an iPhone 6 of their choosing, before stocks run out.
Of course, this makes it more widely available to more media outlets out there. And while
some will do a drop test
, to see if the iPhone 6 is somehow magical and will not break, others take a substantial amount of time to tear it down piece by piece, documenting every step, exposing hardware that Apple doesn't have a habit to talk about, and evaluating the phone's repair-friendliness.
You guessed it – we are talking about iFixit. The guys spent a whooping 7 hours of meticulously disassembling an
iPhone 6 Plus
and gave it a rather favorable "repairability" score of 7/10 – a 1 point increase, compared to the iPhone 5s. The site cites simplified screen removal, easily removed battery (as long as one is knowledgeable on the matter), and a longer fingerprint sensor cable, which was the culprit for some troubles in the 5s' repairs, as the positives that make the phone repair-friendly. iFixit's main gripes with the iPhone 6 are that it still uses Pentalobe screws, which require a specialized screwdriver, and the fact that Apple does not share repair information with 3rd party repair shops.
As for the components, this teardown is probably as official a confirmation on the phablet's RAM capacity as we are going to get – as
rumored
(or seen in a
mysterious benchmarking software
) – it sports 1 GB of RAM, just like the 4.7" iPhone 6. The battery's markings rate it at 3.82 V and 11.1 Wh, totalling at 2,915 mAh (though, our calculations tell us it's more like 2,905 mAh). The 8 MP iSight camera's aperture is rated at f/2.2 and the camera itself is labeled "DNL432 70566F MKLAB".
The post at iFixit elaborates on every component that comes out of the iPhone 6 Plus' chassis, so if you feel like geeking out – head to the source, linked below. If you just wish to look at the lovely pictures of Apple's first phablet's internals – check them out in the slideshow below.
source:
iFixit