iFixit disassembles the Google Pixel C, uncovers a metric ton of glue
6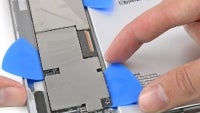 It took a while, but the teardown artists at iFixit got their hands on the Google's high-end Pixel C Android tablet (released December 2015) and disassembled it in the name of science. They gave it a repairability rating of 4 out of 10, reasoning the lowly figure with some questionable cabling choices and the prevalence of "thick, gooey adhesive" in its assembly.
The display is fused and glued with "tough adhesive," but it must be removed in order to access internals, which complicates the procedure. The battery connector is obscured by two ribbon cables and a piece of tape, while the battery cells themselves are "very solidly adhered to the case." with what iFixit calls "crazy strong adhesive." Did somebody go to town with the glue gun?
The antennas are glued onto the speakers, which means replacing the latter will take a less than reasonable amount of work. Moreover, the heart of the Pixel C itself – the motherboard – is adhered to the bottom, with no screws for easy separation to be found.
In an interesting bit of trivia, there are as many as 17 magnets spread throughout the tablet's case in order to let it connect to the keyboard. The full story and photos by iFixit are available inside the source link below.