Google wants more Android apps to give you rewards for watching ads
2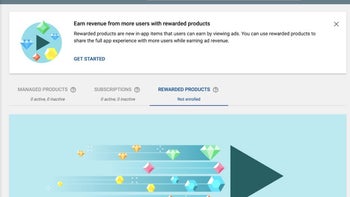 Even though Android users worldwide downloaded more than twice as many Play Store titles in 2018 as iOS users did through Apple's official App Store, the latter generated 88 percent more revenue,
according to a certain estimate
. That plays into a narrative as old as time, according to which Google Play has a monetization problem.
Simply put, those rocking an Android handset or tablet (even expensive new flagship models) are generally less likely to pay for a "premium" app download or "freemium" in-app purchase than iPhone and iPad owners. Obviously, Google is not giving up that fight so easily, seeking new ways to make it easier for Android app developers to earn money, which in turn can generate higher earnings for the search giant.

A new feature called "rewarded products"
is now available in the Play Console for third-party devs to integrate into their apps with minimal effort. The idea behind this rewards system is hardly new or groundbreaking, but Google is basically sanctioning gifts for ads now, which is a pretty big deal.
From an everyday user's standpoint, this product could be seen as convenient... or a major pain in the behind. Free-to-play games have offered rewards for watching ads for a fairly long time, but something tells us this monetization method will be employed more often starting soon enough. You will obviously not be forced to watch full ads, but some folks may not take too kindly to interruptions like the one exemplified by Google on its Android Developers blog.
Of course, others are likely to jump at the opportunity of wasting a few seconds to gain in-game currency or other perks without actually spending any money. By the way, video is only the first supported format of the "rewarded products" feature, with other ways to boost app revenue being currently explored. That's... interesting, but also pretty vague.