Snag an Amazon Echo Dot speaker now for just $29.99 ($40 off)
4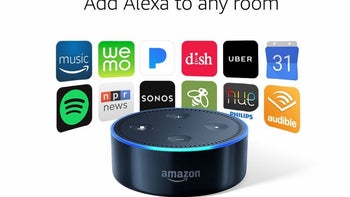 Do you own a smart speaker? No? Then now's a good chance to get one of the best, cheap smart speakers around for even cheaper! The Amazon Echo Dot is now going for just $29.99, down from the usual $49.99.
The speaker is powered by Alexa, so you can find out about the weather, sports scores and stock prices just by asking for them. Without tapping a button, you can turn on or off smart appliances, make a phone call, send a text, order a Lyft, set timers and alarms, order a pizza, and do a
million other things
.
And right now, you can purchase the Amazon Dot (2nd generation) for just $29.99. That is a $20 off, or 40% savings, from the usual price of $49.99. Heck, even if you already own a smart speaker, that's a great deal to equip another room in your home with an AI-powered speaker. If you already own an Amazon Echo, Alexa will respond to the unit you're closest to using something Amazon calls Echo Spatial Perception.
If you're not familiar with the Amazon Echo Dot, it looks like an over-sized hockey puck, and is available in black or white. Want to take the plunge, or add more Echo smart speakers to additional rooms in your home? Simply click on the Amazon link below.