ZTE Grand Memo vs Samsung Galaxy Note II - first look
10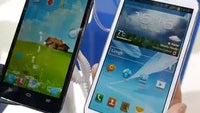 While we were taking the
ZTE Grand Memo
for a spin at MWC 2013, we thought to ourselves that comparing it to a popular device of similar proportions would be a pretty good idea. Good thing we had our trusty Samsung Galaxy Note II handy! There are many similarities between the two, but a number of differences also should be noted.
Let's start with the obvious stuff: both the ZTE Grand Memo and the Samsung Galaxy Note II come with massive displays. The latter is equipped with a 5.5-inch Super AMOLED HD panel while the former's screen clocks in at the whopping 5.7 inches. As you might expect, the ZTE Grand Memo is also physically larger, although you'd definitely be using either one of them with both hands in many cases. Screen resolution, however, is the same for both devices, namely 720 by 1280 pixels.
Under the hood of the ZTE Grand Memo ticks a quad-core Snapdragon 600 SoC, which is definitely powerful, at least in theory. The Samsung Galaxy Note II is powered by a quad-core Exynos SoC, which also packs quite a punch.
For more details, we've embedded a video below where we put the ZTE Grand Memo and Samsung Galaxy Note II side by side. Check it out below and let us know which one you think is better!