Santa will speak to your kids through Google Assistant
3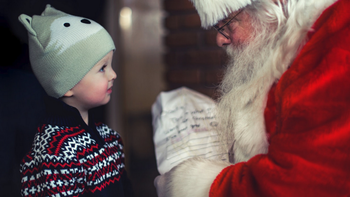 Sure, Santa is a very busy guy this time of year. He's checking his list to see who is naughty and who is nice. He also has to oversee all of those elves building the toys that he will deliver to deserving boys and girls. At the same time, he has to be aware of the weather patterns around the world. And with Europe's new GDPR regulations and Facebook's constant misuse of user profiles, he has to make sure that the personal consumer data on his server isn't being used for nefarious purposes.
Despite his busy schedule, Santa is always willing to chat with boys and girls.
As noted by TechRadar
, if you have Google Assistant on your phone, tablet or smart speaker/display, you can simply say "Hey Google, call Santa" to connect to the North Pole. Once you are connected to the big guy himself, put your kids on and they will be asked to help Santa with a song that he is working on for the Elfstock festival. If you call Santa from the new Google Home Hub smart display, the call is accompanied by graphics. Your children will love it.
And we expect that Google will soon update its Santa Tracker app. Last year, the app was updated on December 3rd, so keep an eye out for this. The app allows you (or your kids, really) to follow Santa's travels on Christmas Eve. It also includes fun games for the kids to play.