Your Android suffers from poor battery life? 3rd party apps are to blame!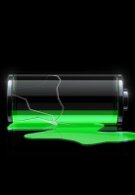 One of the interesting questions that have been discussed at the annual Google Zeitgeist event this week was about Android's frequently observed poor battery life. Google co-founder Larry Page has obviously stated that the power management of the core operating system is in fact very good, and if a customer is unable to get a full day of use out of their Android handset, then there's something else that has a negative effect on the performance of the phone.
Google CEO Eric Schmidt himself has taken the liberty to suggest that some of the 3rd party applications that hit the Android Market are not really into the right management of resources, thus requiring more power from your Android smartphone than they need. So, there you have it - if you've been experiencing suspiciously poor battery life with your Android phone, now you know what the reason might be. Not that the Google officials have proposed a solution to the issue, but Larry Page has jokingly stated that you might get "a bigger battery". Alright people, you heard the man - go get a bigger battery!
Are you experiencing poor battery life with your Android handset? Let the world know through the comments below!
source:
TechRadar
via
AndroidCommunity