You may have forgotten the BlackBerry Mr. T, but it remembers you
22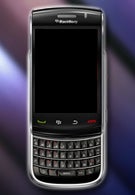 In one of those not-so-official posts, BGR has published some
BlackBerry Mr. T
specifications, reportedly provided by one of their BlackBerry connects. Just in case the words "
BlackBerry Mr. T
" don't mean anything to you, it is a rumored device that should feature both a touchscreen and a slide-out QWERTY keyboard.
While previous rumors pointed the handset will have a side-sliding keyboard, it now seems Mr. T will actually have a portrait-oriented QWERTY. To be honest, this seems more possible to us, as RIM specializes in portrait keyboards. Another interesting thing is the OS version, which is said to be no less than
6.0
. Yep, we also hope it isn't just a facelift of 5.0. Wi-Fi 802.11n support is said to be 100% in the game, as the source states, as well as a screen resolution of 360x480 pixels. Finally, this should be a GSM smartphone, so Verizon won't be exclusive in the US.
Be honest with us, do you think the market needs the BlackBerry Mr. T? Is it hot enough to compare with the offerings of other manufacturers right now? So many questions, so little time…
source:
BGR