Yet another round of prototype iPhone images have been leaked?
24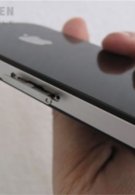 Only a few days ago since
we first saw new iPhone images out of Vietnam
, there are now even more pouring out with accompanying videos to truly give you more face time with the upcoming next generation iPhone. Even though it's unclear if the latest round of leaked materials are from the same source from the ones seen last week, the inclusion of video this time around only adds to the surreal bubble burst of next generation iPhone leaks we've been all too accustomed in experiencing for the better part of the last month. It's tough to say if it's the same exact iPhone unit we saw last week, but all of the clear and detailed images point to the reality that it is. Generally there would be a minimal amount of leaked information regarding the iPhone as we head into WWDC, but it has become too transparent that things are going to be different this time around. In the mean time, check out the latest set of images speculated to be the next iPhone in the flesh.
Apple iPhone 4G Preliminary Specifications
via
BGR
&
SoftSailor