Yahoo says the average Android user has 95 installed apps, but only uses 35
15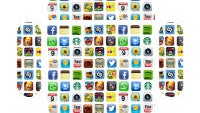 The Aviate launcher has made its reputation (even before being
bought by Yahoo
) by dynamically changing your home screen based on context, and offering the apps you use most and need when you need to have them. Obviously, to do this, the app has to track what apps you open and when. Today, Yahoo showed off some of the data that it has gathered from its users and figured out some interesting information about app usage among its users.
According to the data, the "average Android user" has 95 apps installed, but only uses 35 of them on a daily basis. We're not quite sure what to take from that exactly, because this data is quite obviously skewed. This is in no way indicative of the "average Android user", because the average user doesn't use a launcher alternative, and even those who do use an alternative likely don't go for something as advanced as Aviate. Still, Aviate is in the 1 million to 5 million download range, so the data is certainly giving good info on the average Aviate user.
The vast majority of the other data is made of things that you probably could have guessed, like transportation app usage peaking at 8AM and 5PM, weather app usage peaking in the mornings and evenings, media and video apps peaking after dinner, or phone and SMS used most during work hours.
It's hard to say how useful this data is on its own, but it is certainly very useful in making contextually-aware apps like Aviate smarter.