Y-cam HomeMonitor Indoor Camera hands-on
1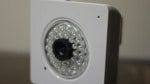 Are you the type of person that just needs to constantly know what's happening in the house, when you're away from it? Whether you're away for vacation or simply off to work, we might sometimes find ourselves wondering about what's going back at home. Well, it's not all too surprising that security is a major concern, so it's nice to see that nowadays we're presented with a
variety of options when it comes to IP-based cameras
.
Always ready to give us the bird's eye view, the
Y-cam HomeMonitor Indoor Camera
might be something suitable enough to give you peace of mind when you're away. Much like other IP-based cameras on the market, the Y-cam HomeMonitor Indoor Camera enables us to use a plethora of devices to check out what's happening at home – though, it's something you can use anywhere honestly. Now the beauty of this camera lies in its
ability to stream video content to the clouds
, which allows us to use iOS and Android devices to check out things in real time. Design-wise, there's nothing really to it with this model, as it doesn't hide the fact that it's a camera. With the included bracket, we're given some flexibility in adjusting its angle, but it's mostly stationary for the most part.
Even better, it's nice that there's both a
wired and wireless connection
. So what else makes the Y-cam HomeMonitor Indoor Camera special? For starters, it features
infrared night vision for up to 15 meters
in pure darkness. Honestly, it's a great thing to have, but we can't help but think about those Paranormal Activity movies that makes us look all ghostly in the dark. Still, the ability to see in complete darkness is useful.
Using the HomeMonitor app, we can access the camera and turn on/off different functions. From
motion detection
that automatically uploads videos to the clouds for viewing later on, to being
notified via e-mails about detections
, the app gives us some meaningful control. Now, it's worth mentioning that Y-cam's service will save unlimited videos for up to 7 days for
free
. However, if you need more, they offer a
$40/year service
that ups the saving time to 30 days.
So how's the quality? Well, it's undoubtedly pretty clear when there's plenty of lighting around to light up the scenery – plus, audio recording is pretty clear. On top of that, the option to set specific "
detection zones
" with the web-based interface is pretty useful, so that it doesn't record every single movement that comes into view. Of course, details are softened tremendously with low lighting quality, but then again, we can't complain too much seeing that it can see in the dark. In terms of pricing, the Y-cam HomeMonitor Indoor Camera retails for
$200
, which isn't too bad at all – while an "
outdoor
" version tallies in at a heftier $350.