Xiaomi will supposedly ditch Qualcomm and MediaTek for its own Pinecone processors soon
16
The debate between Android and iOS is one of the most heated ones in all of the tech industry, and whatever your opinion is on the matter, there's one advantage that you have to give to Apple - it's tight-nit integration between both hardware and software. Android's open source nature does allow for a much wider array of choice in regards to hardware availability, but it also means that the operating system is running on tons of different processing configurations. Qualcomm and MediaTek are two of the most popular smartphone CPU makers that exist right now, and while their processing packages continue to become better optimized with Android as time goes on, a company being able to create its own silicon to work just the way that it wants can offer a lot of benefits as seen with Apple's in-house A10 chipset that's present on the iPhone 7 and 7 Plus.
We spotted a rumor back in January that
Xiaomi's upcoming Mi 6 would be one of the first smartphones to utilize Qualcomm's Snapdragon 835
chipset, and while we might still see a variant of the smartphone that's powered by Qualcomm silicon, a new report from
The Wall Street Journal
indicates that Xiaomi will soon be ditching Qualcomm and MediaTek's processors in favor of their own chipset. Xiaomi's processor is currently codenamed as "Pinecone", and it's being reported that it will be released "within a month." If accurate, this timeframe means that the release of the Pinecone would line up nicely with the Mi 6's debut, but other sources indicate that the Mi 5C would be the first phone to utilize the Pinecone chipset.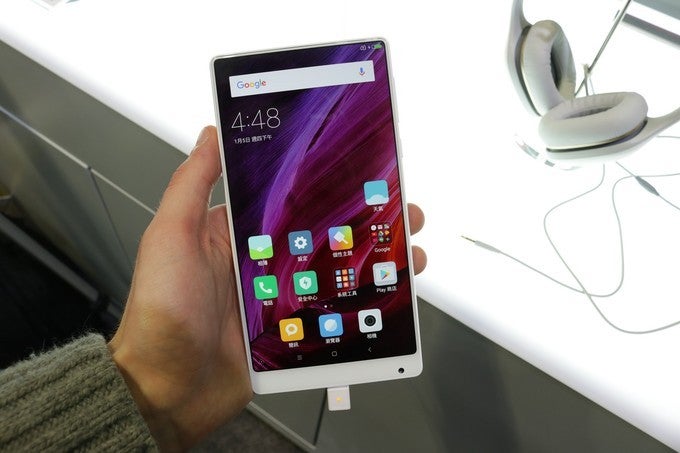 The Xiaomi Mi Mix
Talks of Xiaomi working on their own processor first came up back in 2015, and although this may not sound like the most exciting news at the moment, it could prove to be a huge deal for the company. If successful, Xiaomi would be just the second China-based smartphone company to be manufacturing and producing its own processing tech (Huawei being the other one).
There's still no way of knowing how Xiaomi's in-house silicon will compare to the likes of what Qualcomm and MediaTek are currently producing, but what we do know is that it'll likely benefit the company from a financial perspective. Having one less third-party entity to rely on will undoubtedly save Xiaomi both time and money, and this could potentially result in cheaper smartphones as time goes on. Xiaomi is still one of the younger names in the smartphone landscape, but a move like this would send a big message to the industry that the company is force to be reckoned with.