Xiaomi is not the Apple, it is the Amazon of China: here is what it could bring on Sept 5
21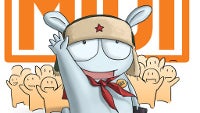 'Xiaomi is the Apple of China.'
You may or may not heard this comparison before, but you definitely heard about the biggest news of the day - Google's head of Android product management
Hugo Barra will join the Chinese phone maker Xiaomi
. Ironically enough, using this metaphor, we could say that Google's device head arrives to China's Apple. Does this combination mean we have a new huge global phone maker in the making? In reality, Xiaomi does not like the comparison with Apple, it sees itself more as the Amazon of China, a company selling devices only as tools for access to its ecosystem. And having a lot of affordable and popular devices is key.
Now is the right time to take a deeper look at what Xiaomi has in its pipeline, what brings the constant comparison with Apple, and why this could be the next big name in tech.
The $130 quad-core phone: Xiaomi 'Hongmi' Red Rice
Xiaomi's latest big product is a smartphone called the Red Rice. The Xiaomi Red Rice is an extremely interesting device. A quad-core smartphone with a 4.7" 720 IPS display, based on MediaTek's most powerful MT6589T chip, it delivers the performance of an upper-mid-range device at the price of a low-end phone, only $130 off contract.
If launched globally, the Xiaomi Red Rice would without a doubt achieve good (if not great) sales. It's simply too good of a bang for the buck to ignore. It's already making a splash in China, and is a good illustration of Xiaomi's business model - devices sold at around their cost, aiming for maximum volume and sold to promote an ecosystem rather than make a profit on their own.
However, the device has one key flaw. Right now, it only features support for TD-SCDMA, the Chinese 3G standard. That means that it does not support 3G in other countries and is limited to snail slow 2G speeds. Right below, you'd find the official introductory video for the Xiaomi Red Rice.
All eyes on us: Xiaomi to announce something big on September 5th
It's no coincidence that Hugo Barra's move to Xiaomi was announced just days before a huge upcoming event for the Chinese company. On September 5th, Xiaomi company will hold an event to announce a hugely important new product.
What would that be? We don't know, but we've heard speculation that the $130 Xiaomi Red Rice could get international 3G, and an ambitious plan to conquer other markets. A new flagship device could also be up in Xiaomi's sleeve. The company aims to boost sales to reach 15 million smartphones in 2013, a number that would put it among the biggest phone makers in the world. Xiaomi is already selling more than Apple in China, and its goal is to reach for maximum volume so it can push its ecosystem, as that's what really gives it a competitive edge.
We don't know whether it'd succeed, but it just managed to get all the attention of the world and nowadays this seems like half the success. Right below, you can see Xiaomi's chief executive explaining what the company really is all about.