Xiaomi's two new Android One phones could be the best affordable phones of the year
17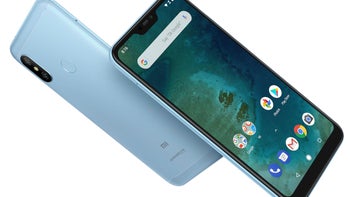 Xiaomi, one of the fastest growing phone makers in the world, has just unveiled two impressive new super affordable Android One phones that bring incredible value for the money and surprisingly powerful specifications: the
Xiaomi Mi A2
and the
Xiaomi Mi A2 Lite
.
Both are Android One phones and what this means is that you get a pure, fast Android experience, as well as fast Android updates as these will be some of the first phones to get Android P.
The Xiaomi Mi A2 is the big star of the show here with a Snapdragon 660 chip and an elegant aluminum body, and a price of a budget phone. Xiaomi also knows that the weakest point of affordable phones is their camera and that is why it has put the focus with the A2 on building a great camera.
Xiaomi Mi A2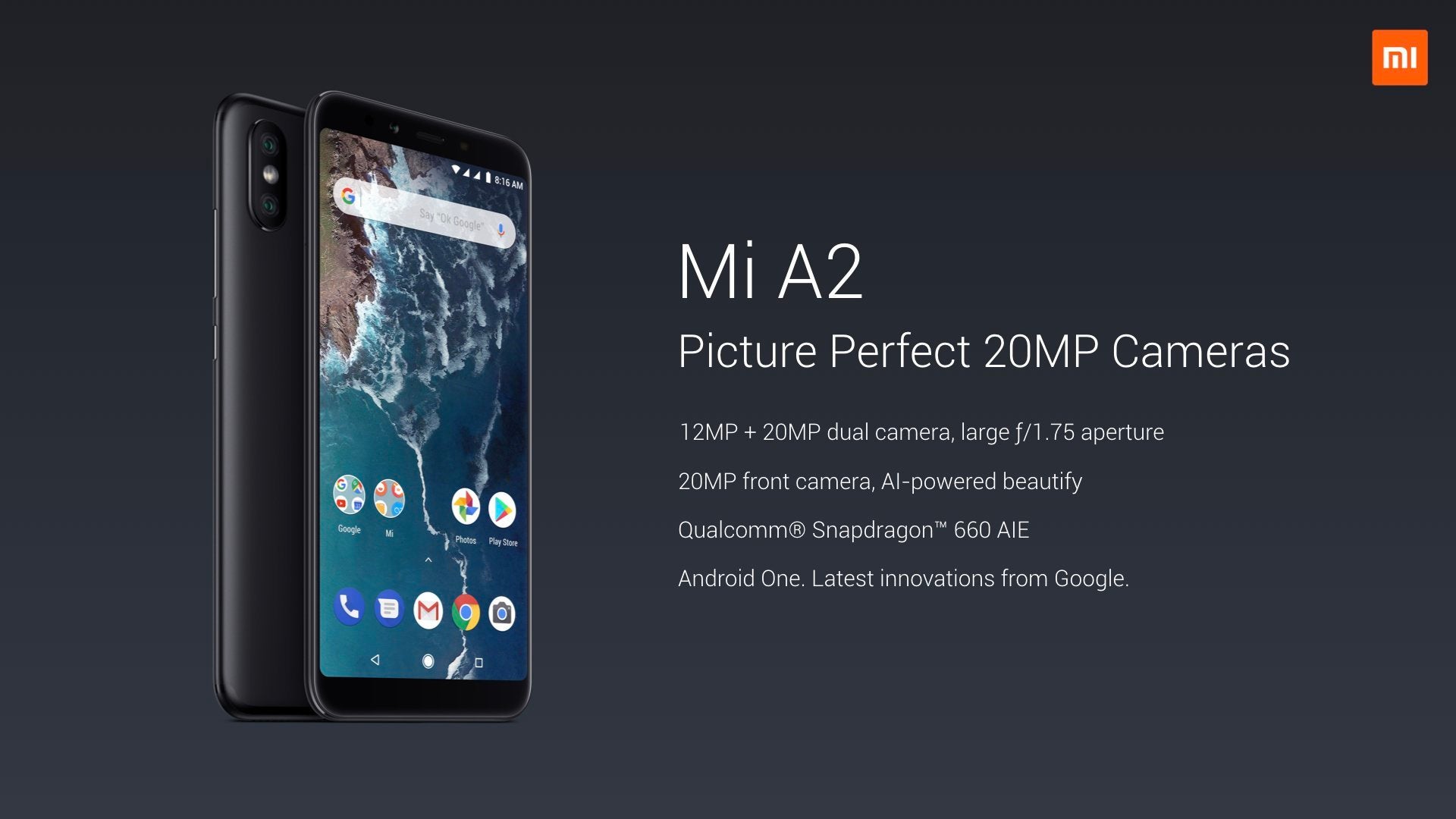 The Xiaomi Mi A2 features a 6-inch 2:1 display covered with Gorilla Glass 5 protective glass and it is made of aluminum, with an elegant design and with discrete antenna lines. It features a fingerprint scanner on the back, as well as a USB-C port on the bottom, but there seems to be no 3.5mm headphone jack on board. There is also no microSD card slot here. In terms of pure size, the Mi A2 is very thin, measuring just 7.3mm, and featuring some subtle curves that make it more comfortable to hold. In fact, it looks a lot like the OnePlus 5T in actual feel. The phone comes in three colors: black, blue and gold.
Under the hood, the Mi A2 is powered by the Snapdragon 660 chip, the latest mid-range chip by Qualcomm that is 20% faster than Snapdragon 636 and some 80% faster than the Snapdragon 625. Yet all of this comes at a budget price.
Cameras
On the back, you find a vertical dual camera setup with a main 12MP camera and a secondary 20MP shooter, both with wide, f/1.75 lenses that allow a lot of light in. You get support for portrait mode with Xiaomi's clever AI features that separate subject from background better than before. At night, the secondary camera steps in as it supports pixel binning, another smart technology that allows combining four pixels into one and getting much better light sensitivity, and ultimately, better-looking night shots.
Up front, the Mi A2 features a 20MP camera as well, and has support for portrait mode with the selfie shooter, plus it can recognize multiple faces in portrait mode, something that even higher-end phone are often unable to handle. The front camera is also equipped with an LED flash that helps illuminate selfies at night.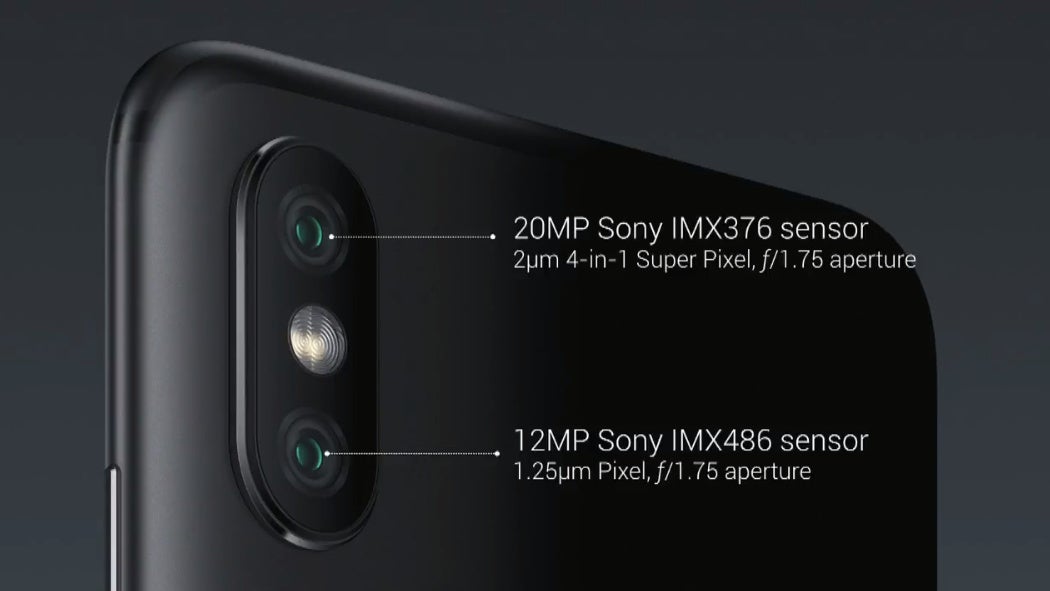 We are very impressed with Xiaomi's promise that the Mi A2, as part of the Android One program, will be one of the first devices to get Android P this year. Android P will bring features like auto brightness adjustments, Google's adaptive battery feature and so on to the phone, and most impressively, you will get support for the new gesture navigation as well.
Unlike many other Xiaomi phones of the past, this is not a phone made for China. Quite the opposite: it will be available in some 40 countries. The release date in Spain is set for July 27th, just three days from now, and other markets will soon follow. The Mi A2 will be available all across Europe and in some Asian and Middle East countries, but unfortunately, it will not be sold in the United States just yet.
Price is one thing that Xiaomi has as a big advantage over its rivals and the Mi A2 is no exception. Here is how prices break down:
Mi A2 4GB RAM + 32GB storage: 249 euro
Mi A2 4GB RAM + 64GB storage: 279 euro
Mi A2 6GB RAM + 128GB storage: 349 euro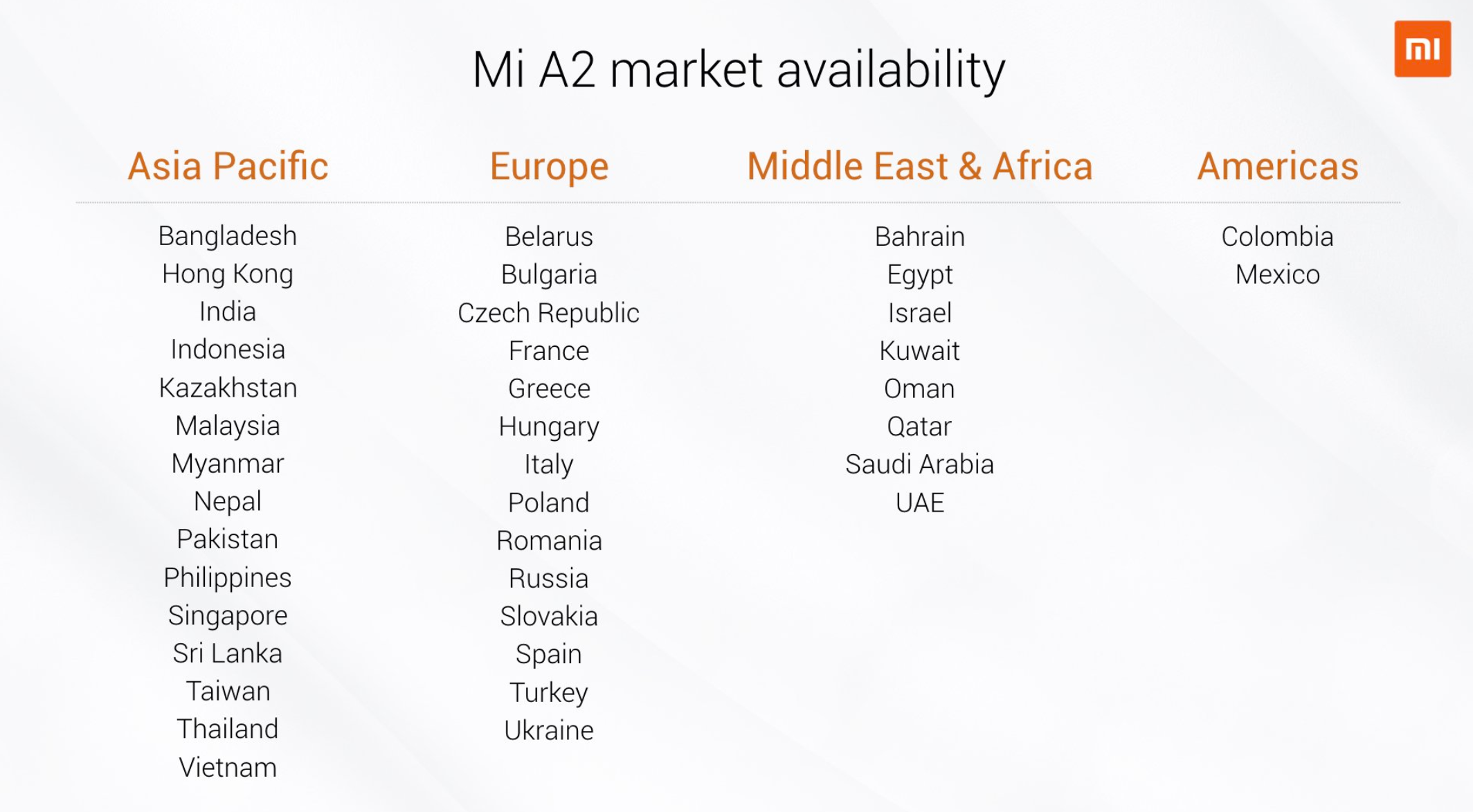 Xiaomi Mi A2 Lite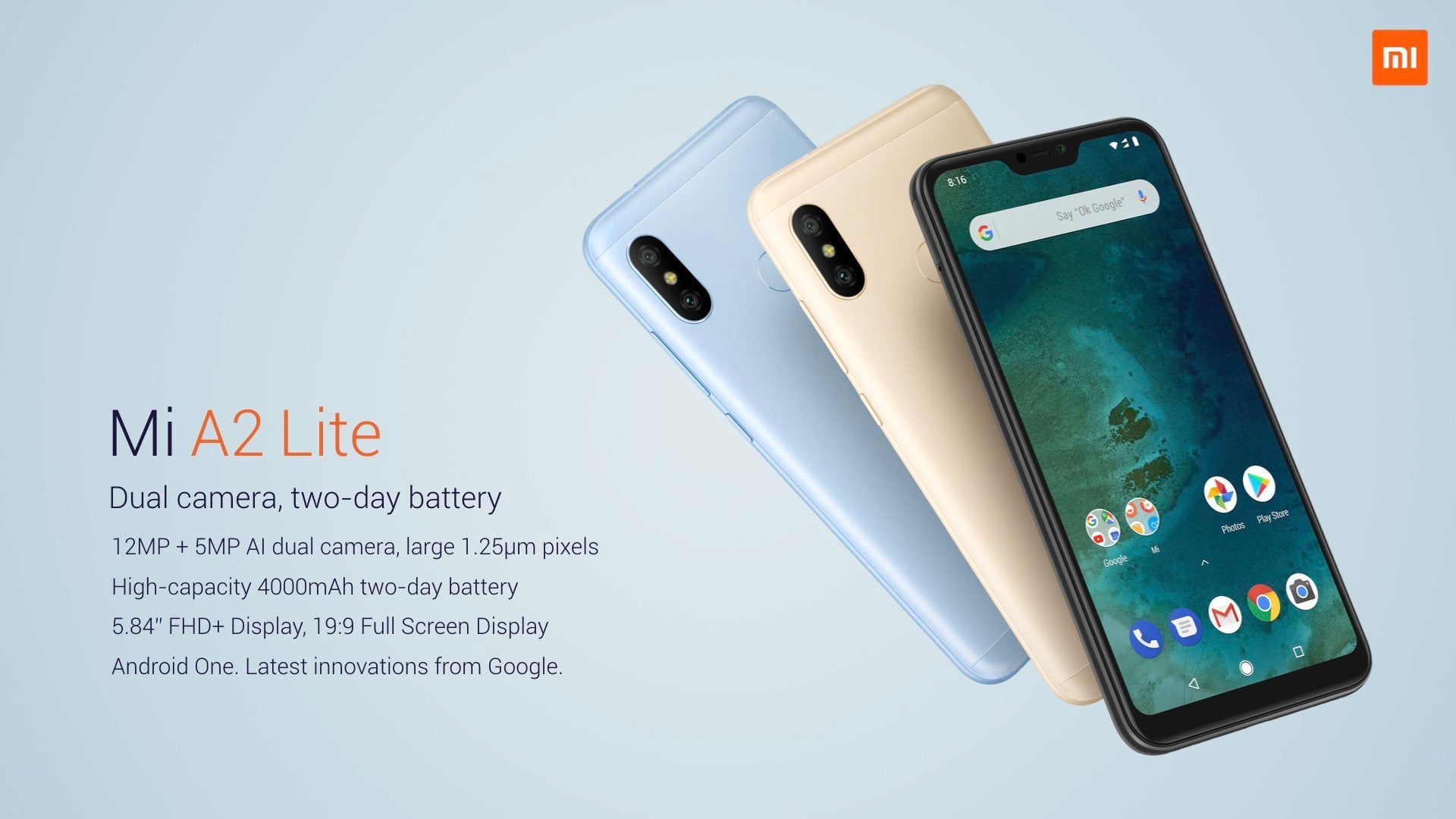 The other phone that Xiaomi unveiled today is the even more affordable Mi A2 Lite.
Equipped with a notch and a tall, 5.84" display, the Mi A2 Lite features the same Snapdragon 625 chip that Xiaomi has been using on so many other phones. The company even joked about this chip on stage, but then added that it is the incredible battery efficiency possible with it and the fact that it brings it to such a cheap phone, that really justifies the decision this time.
Curiously, the cheaper Mi A2 Lite uses a microUSB port instead of USB-C, but has a 3.5mm headphone jack that the Mi A2 lacks.
The Mi A2 Lite will sports a 12MP main camera on the back with a secondary 5 megapixel camera, it will also support cool camera effects like portrait mode and have fast focusing speeds with phase-detection AF technology. The main 12MP camera also has large, 1.25-micron pixels.
The price for the Mi A2 Lite is set at just 179 euro for a model with 3GB RAM and 32GB storage, while a 4GB RAM / 64GB storage version will cost 229 euro.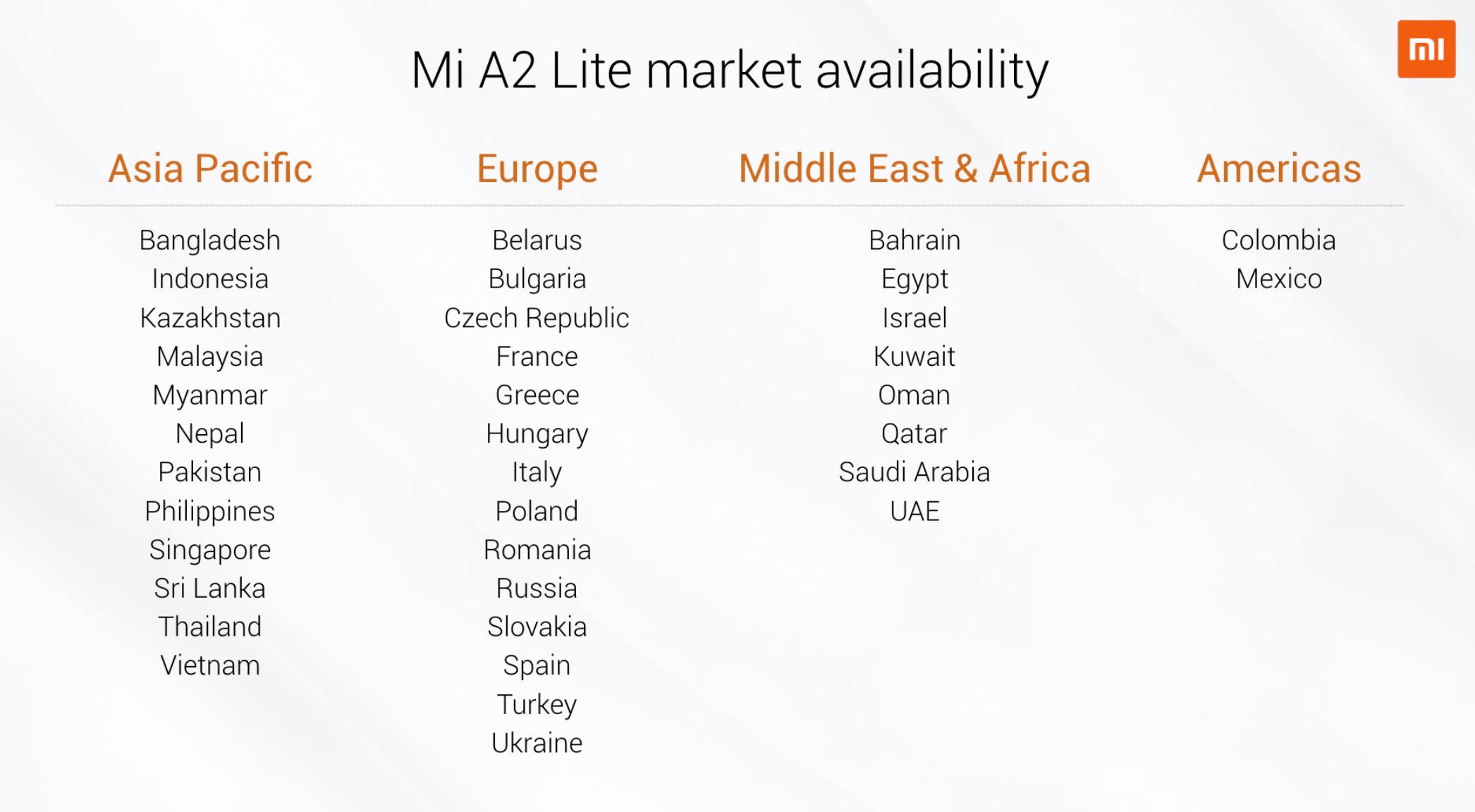 source: Xiaomi
Recommended Stories