Xensation Cover is the Germans' alternative to Gorilla Glass, claims it is tougher
18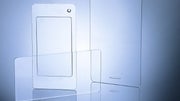 Gorilla Glass is the first brand name that comes to mind when scratch resistant gadget displays are concerned, but Corning is not the only maker of such products. In fact, this German company called SCHOTT believes that its newly announced product outperforms the competition's offerings. The Germans have unveiled Xensation, which they claim to be
"the strongest cover glass available on the market today."
And yes, as you might expect, the glass is meant to protect displays of mobile devices, including smartphones and tablets.
Xensation Cover glass is made using alumino-silicate, which is where its properties come from. It is highly resistant to scratches, cracks, while still being capable of bending, so protecting curved glass displays should not be much of a problem. And for gadgets that must excel when it comes to outdoor visibility, SCHOTT has developed an anti-glare variant of the material called Xensation AG Cover.