Woz: Apple Watch and other smartwatches are "not a compelling purchase"
35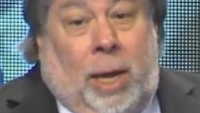 If you look up the word integrity in the dictionary, you are bound to see a picture of Steve Wozniak. The Apple co-founder says what he feels, even if it means saying some rotten things about the company that
he and Steve Jobs founded a bit more than 40-years ago
. Along the way, the Woz has become something of a folk hero.
Wozniak loves gadgets, but he isn't ready to fully embrace the current crop of wearables, including the Apple Watch. Speaking today at the Future Transport Summit in Sydney, the Apple co-founder complains about the stunted computing power found on today's smartwatches. He also doesn't like the idea that the intelligent timepieces are dependent on a smartphone for connectivity.
The latter is very frustrating to Wozniak, who mentioned that there have been times when he left his iPhone at home and didn't realize it until he tried to pay for something using his Apple Watch. Unfortunately, without the phone to pair his watch with, he was unable to get online to complete the transaction. Those experiences have led Wozniak to state, "People say that if you put the name Apple on it, people will line up to buy it. I think it needs a little more than these watches have." Apple is reportedly working on a stand-alone version of the Apple Watch, which will feature a SIM card and stand alone internet capabilities. Will this be seen on the Apple Watch 2? That remains to be seen.
For now, Wozniak calls the Apple Watch "an expense that bought me a few extra niceties in my life," and compares it to a Bluetooth connection to his phone. And that is about as honest an appraisal of the Apple Watch as you will get, even if it is from someone whose name remains synonymous with Apple. He adds that just as the original Bluetooth earpieces made wearers look "dorky," the current field of smartwatches will do the same. And yes, he includes the Apple Watch in that list of smartwatches that are "not a compelling purchase."
source:
TheRegister