Apple turns 40 on April 1st, celebrations begin with a 40 seconds-long ad spot
17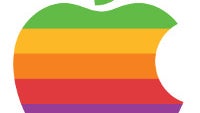 According to our website's analytics software, for most of our readers, Apple has always
been
during their lifetime. And that's no surprise, for the company is turning 40 in just 11 days from now—on April 1st.
Back in 1976, Steve Jobs along with Steve Wozniak and the oft-forgotten Ronald Wayne, founded Apple. The two Steves would go on to establish what today is the richest company on the planet, with over $200 billion in cash reserves and long-term market securities, while Mr. Wayne's story would turn into a fascinating, attention-grabbing story for popular media. That's also no surprise, as had Wayne held onto his 10% share in the company, today he'd be one of the largest Apple stockholders, with a slice valued at $5.9 billion in market capitalization. Crazy, huh? Especially if you consider that the guy sold his stake for a total of $2,300 by 1977. Even in `77 money, that's less than a pittance in comparison.
Money aside, Apple has a lot to be proud of. In that stretch of time, the company came up with hits such as the Macintosh, the iPod, the iPhone, and the iPad among others. While this is no news, Apple again reminded us that as of January this year, its products are actively used by over a billion people around the world. And even though Apple's CEO Tim Cook has been at the reins for nearly 5 years now, those are undeniably some big shoes to fill, and so we sure share Apple's boss' hopefulness that the next 40 years will be just as eventful and full of innovation.