Woman throws away first generation Apple computer worth $200,000
10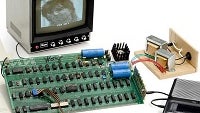 Back in the day when Apple was getting started in the 1970s, you could buy an Apple I Computer for $666.66 ($500 plus a 33% mark-up). For that, you got an assembled circuit board and nothing else. You had to provide your own keyboard, display, and power supply.
Sometimes Steve Wozniak, who build these by hand, would sign some of the pieces on the computer. It was powered by a 1MHz CPU and had a generous 4KB of memory which could be expanded to a massive 48KB if you so desired.
The Apple I Computer is a collector's item now, only 200 were made. A few years ago, one
sold at auction for over $600,000
. There are probably several still around, and it would not be a stretch to think some of them resided in California.
California is also one of the more dedicate recycling locales in the United States. According to Clean Bay Area, a recycling company that specializes in taking in e-Waste (semiconductors, computers, lab equipment, etc.), an unidentified woman was cleaning out her garage after her husband passed away. She declined a tax-receipt and went on her way. Since the Milpitas, California facility was backed up that day, they did not go through her boxes of "junk" right away.
One of the items that was discovered during the collating of materials she left behind was none other than a first-generation Apple I Computer.
Clean Bay Area sold the computer to a private collector for $200,000 and now wants to find the woman because the company has a policy of sharing proceeds 50-50 with donors. "We are looking for her to give her $100,000," according to Clean Bay Area VP Victor Gichun. As the company mostly deals with businesses, and only gets about 5 visits each week from individuals, Gichun says he remembers the woman, but she was only interested in getting rid of the things in her garage.
All she has to do is show up to get her check, "To prove who she is, I just need to look at her."
Gichun says that he will be more persistent about recording donor contact information in the future.
source:
San Jose Mercury News