Wish your kids spent less time with the tablet? Get them moving with an interactive floor from LumoPlay
8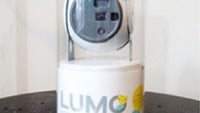 It is no secret that our mobile devices have brought us unheard-of levels of convenience. They provide connectivity, entertainment, the whole internet to the palms of our hands.
They are also a great short-term pacifier for kids when we want them to focus on something while we do "adult" things, not unlike the ways kids would get "sat down" in front of television in previous generations.
In developed markets though, there is a growing problem with unhealthy weight in kids (and adults), particularly the US, where people are getting a little too sedentary in their lifestyles. Since technology is here to stay, Canada-based LumoPlay has solution to make the games a bit more interactive, and get the kids more
active.


The Lumo is an Android-powered, motion-sensor-equipped projector that turns any floor into an interactive play space. The initial focus is on kids aged 7 and under. From dancing games, to "air" hockey, and even a version of Hungry-Hungry Hippos (called Greedy Gators), they'll be jumping, dancing and having all sorts of fun. There over 100 games ready for Lumo.
On top of that, kids can use web-based content creation templates to help them create their own game environments, using their own drawings and artwork. Lumo also has a software developer kit, developers that have existing games for kids that were designed for tablets using Unity can port their apps and function with Lumo's motion reactive system.
The Lumo is a neat take on augmented reality fostering engagement from kids to think of ways to create their own content and be active with the technology – a far better option than simply zoning out on the couch with the family gadgets (today, as much as 40 hours per week is spent in front of a computer screen of some type). For young kids, being active is more than just a physical health benefit, it also helps with motor skill development, problem solving, pattern recognition, and other important childhood development milestones.
Check out the reference link below to learn more about the Lumo. If you are a developer, you can connect with LumoPlay to get the SDK and bring your game to the Lumo.
reference:
LumoPlay