Windows Phone shows you the right way to take a sick day from work
21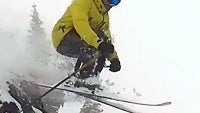 Take a sick day and hit the slopes with a
Nokia Lumia Icon
. It's not like you had anything important to do, right? Now that the spring equinox is upon us, the time is going to be right to start paring down on the winter wear and you can go skiing in t-shirts and shorts.
What might some of those adventures look like? Well, the Windows Phone gang took to the slopes with a Nokia Lumia Icon and had some fun in the powder, all while extoling the virtues of the camera quality on Nokia's newest flagship.
The whole ad was shot on the Icon, so we are treated to 1080p video tempered with optical image stabilization and decent sound due to the four microphones to capture the noise as we are taken down the hill.
The Nokia Lumia Icon is a Verizon exclusive and is available for $199.99 on a two-year contract or $23-per-month on Verizon Edge. Naturally, the ad plays to what are considered Nokia strengths, but if you
read our review of the Lumia Icon
, we think you will find a great all-around performer with a fine camera and outstanding build quality.
source:
Windows Phone
(YouTube)