Windows Phone 8 screenshots leak out: Skype integration, new camera UI in tow
24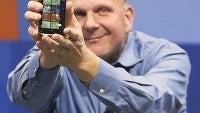 Windows Phone 8
is widely expected to get officially announced next week and come out in the next few months, but alleged screenshots of the updated operating system have already leaked out. The screen grabs show a deep Skype integration and a new camera UI will be among the new features, and while we can't vouch for their veracity, those are certainly features that we expect to see in WP8.
One of the screenshots shows an incoming video call in what looks like the native phone app, and Skype seems to be integrated straight into the People hub.
The new camera user interface introduces a switch for toggling on the front and rear-facing cameras, and finally there's a new DataSmart feature a la Android where you get to see a detailed report about your data usage.
Check the blurry images below and keep in mind that we could have a confirmation from Microsoft on June 20th at the Windows Phone Summit.