Windows Mobile 6.5.1 is looking more promising
This article contains unofficial information.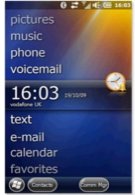 It's becoming more evident that Microsoft is slowly grasping the advantages of using the finger as opposed to a stylus. Even though Windows Mobile 6.5 is still being slowly embraced by consumers, they are already moving forward with their next build – WM 6.
5.1
. Sure it'd be nice to see Microsoft jump full force and focus their attention on WM 7, but gradual steps are needed to really fine tune things out. From the screen shots we've been seeing, which are rumored to be from WM 6.5.1, large finger friendly sized buttons are becoming more noticeable as opposed to the cramp styles we've been accustomed to see in the past. The age of the stylus may soon be behind us if the direction that Microsoft is heading with the new look points true. Even on resistive touch screens, these large icons and text will make the experience a bit more satisfying. There's still some gap between 6.5 and 7, so the latest build should provide a nice transition in the mean time. With even news about the possibility of Zune integration down the road, Microsoft can really perform a jab on its competitors.
via
Engadgetmobile