Windows 8 and pre-installed software on Microsoft Surface Pro weigh in at tens of gigabytes
22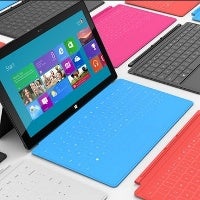 The
Microsoft Surface Pro
came with a huge promise - a tablet that is good for both work and play, with full on Windows 8, a kind of a crossover, the ultimate portable machine. In reality, there are many compromises it comes with and the most recent one is the fact that the
operating system and the pre-installed software take away a mind-boggling amount
of the internal storage for the 128GB model.
Basically, the user is left with 83GB of usable space, a shockingly low amount when you think about you just got a 128GB tablet.
The information was allegedly confirmed by Microsoft itself, and if the same holds true for the 64GB Surface Pro that would leave it only 19 gigs of storage to the user, which is definitely a problem. On the bright side of things, you can always use the 7GB of free cloud storage offered via SkyDrive, and you have a memory expansion slot. Still, that huge amount of storage required for Windows 8 is one of the tradeoffs for getting the full work and play experience.
source:
Softpedia