Will we see a Simpsons themed Angry Birds Space expansion?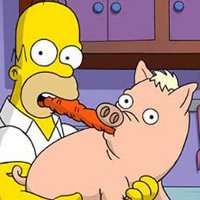 If you haven't heard, an
update was made recently
to
Angry Birds Space
for several platforms, which brings along 10 new exciting levels to the fray. Interestingly enough, there's also a teaser stuffed into it that hints to the possibility of a
Simpsons expansion
– yes, the lovable cartoon TV family on FOX.
As you can tell from the screen shot below, we can find the distinguishable sprinkled pink donut from the Simpsons being feasted upon by a piggy. Therefore, it alludes to some kind of Simpsons-themed expansion, however, it's still up in the air as to whether or not it'll feature some of the familiar family members – or the infamous spider pig/harry plopper from the Simpsons Movies.
Since Angry Birds and the Simpsons are memorable pop culture entities, it'll be interesting to see how the two can collaborate with one another in the expansion. For those hardcore Simpsons fanatics, they surely know that the two have collaborated in the past through TV episodes that featured "Furious Fliers" and "Angry Nerds."
FEATURED VIDEO
via
SlashGear