Will smartwatches be the new tech mania of 2013?
45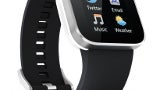 It looks like 2013 will be the year of the smartwatch, or at least that's the impression we're getting from all the rumors about major manufacturers looking into producing the so called 'wearable tech'. We've already heard that
Apple
,
Google
,
LG
and others are working on such projects, but obviously we're yet to see any results. Still, with so many rumors, there's bound to be some truth to the whole story.
What we wanted to know is if you, guys, are excited about the idea of wearing a smartwatch? Well, that obviously won't make women like you more (or help you go on your dates on time), but who knows, there might be some potential in such kind of device, although we're not really sure what our smartphones are going to think of this... Chances are they aren't going to like it. After all, they can already do everything those gimmiky smartwatches will be able to do, right? Or is that so? Let us know what you think by voting in the following poll and dropping a comment below!